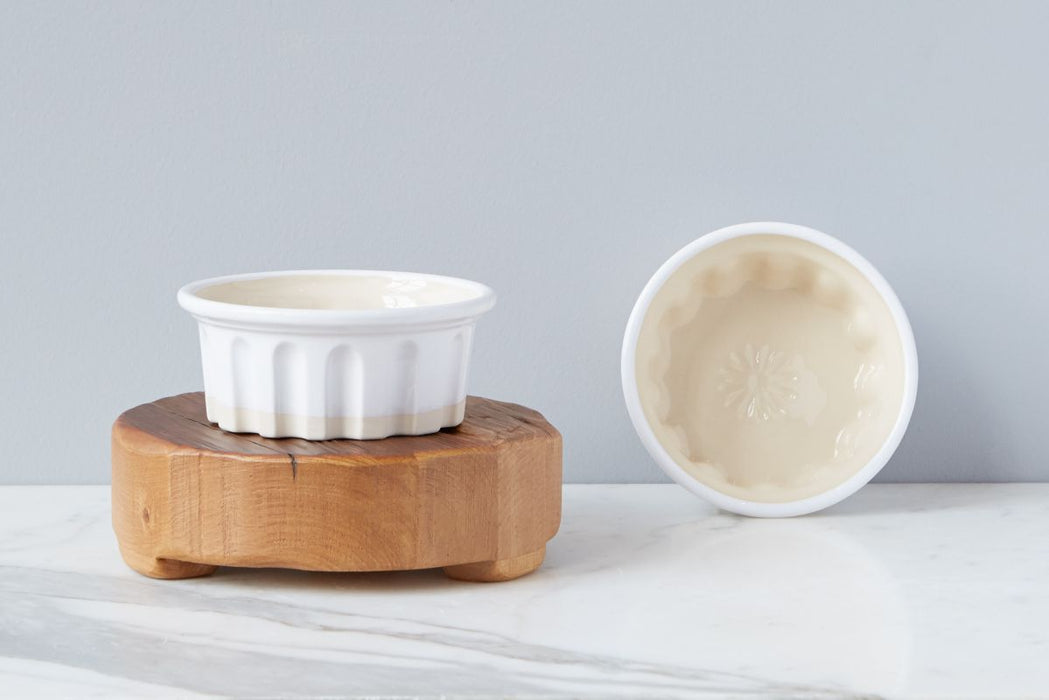 Handcrafted from white European clay, our Bakeware Collection is created by European artisans. Our pieces are inspired from antique molds collected from classic 19th century European kitchens.
The raw clay is left untouched on the bottom, while the top portion is dipped twice: the interior features a warm, cream glaze on the inside and a bright, white glaze on the outside for the perfect mix of traditional design and contemporary style. 
The baking dish heats evenly throughout, ensuring a perfectly cooked recipe every time. These durable pieces easily handle all your one-dish baking, roasting and broiling needs and is meant for everyday use as these pieces are easy to clean and resist chips.
These stoneware bakers have endless possibilities and can also be used for serving as it moves from the oven to the table seamlessly without the need to transfer your meal to another dish. Skip the oven altogether, and this casserole dish can be used as a statement serving tray. 
From beginning to end, each piece requires approximately 35 hours of work. During the process, our bakeware pieces are fired twice in a precision-controlled electric kiln. Crazing will typically occur during the first fire. This is a desired effect to enhance the individuality of each piece. Crazing does not affect the quality or durability of the item.
Product Details and Dimensions 
Handcrafted in Hungary
White European clay heats evenly for uniform baking
Bakeware retains heat efficiently, keeping food warm for serving
Durable hand-applied glaze will not chip over time
Microwavable, oven, freezer and dishwasher safe
Quart Capacity: .75 quarts
Care, Use and Maintenance
Oven safe to 480 °F / 250°C
Let cool before washing or placing into fridge/freezer
Stubborn food residue and stains can be removed with nylon scrubbing pad or sponge
Avoid using abrasive cleaning products, steel wool and scouring pads
Do not use directly on stovetop or outside grill
Only put into oven or microwave if the dish is dry
Weight: 1.0 lb
Length: 6.5 inches
Width: 6.5 inches
Height: 3 inches