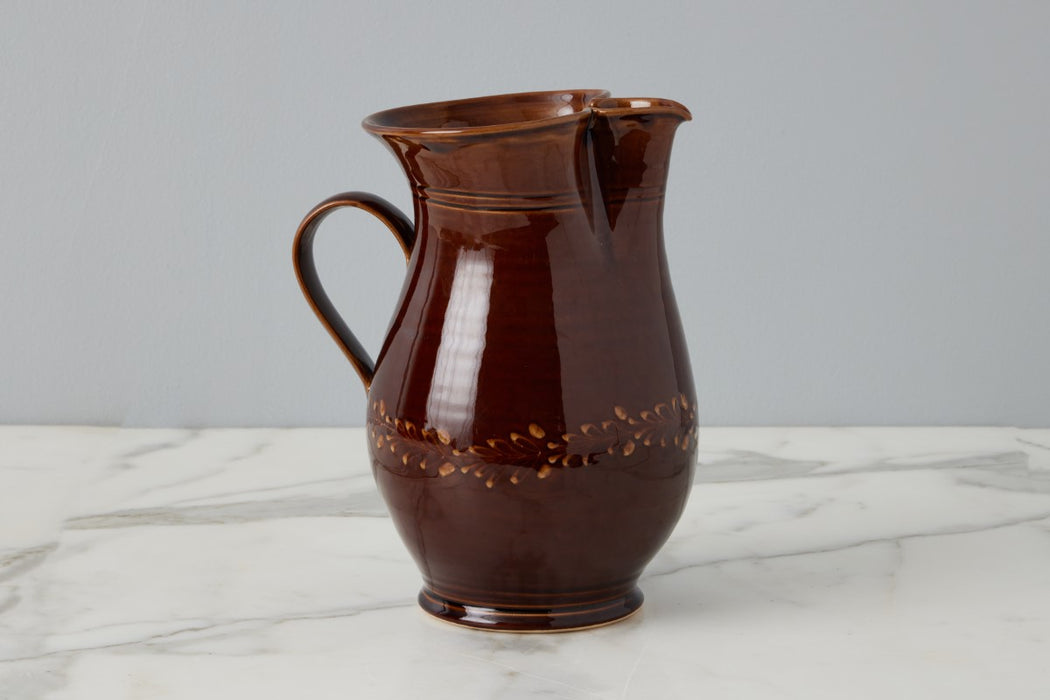 Old World Italian Design meets the modern kitchen with the Tuscan Pitcher. Serve refreshing beverages in this ceramic pitcher or use as a vessel for fresh florals at the center of the table. The pinched spout is inspired by antique Italian vessels and makes a statement in the kitchen. Each vessel showcases the hand of the artisan with a rich chestnut glaze, crème olive branch motif, ribbed detailing and a sturdy curved handle. 
Created in collaboration with Annette Joseph.
Each piece may vary from images shown in coloring, size and glaze drips.
Created one-by-one on the potter's wheel from white European Clay.
From beginning to end, each piece requires approximately 35 hours of work.
The pottery is fired twice in a precision-controlled electric oven.
Crazing will typically occur during the first fire and does not affect the quality or durability of the item.
Glaze drips are a desired effect to enhance the individuality of each piece.
Phthalate, BPA, lead and latex free
Made in Europe
The Annette Joseph x etúHOME collection is a nod to 19th century Italian design and joins Annette's deep love for Italian food with etúHOME's roots in classical European design. Perfectly crafted to elevate aperitivo style entertaining, the collection features crocks and layering items inspired by Annette's renovated Tuscan Fortress, La Fortezza.
Product Details and Dimensions
Handcrafted in Hungary
Durable hand-applied glaze will not chip over time
Dishwasher safe
Care, Use and Maintenance
Recommend washing by hand with soap and warm water and to air dry
Avoid using abrasive cleaning products, steel wool and scouring pads
Weight: 2.0 lbs
Length: 5 inches
Width: 6.5 inches
Height: 9 inches