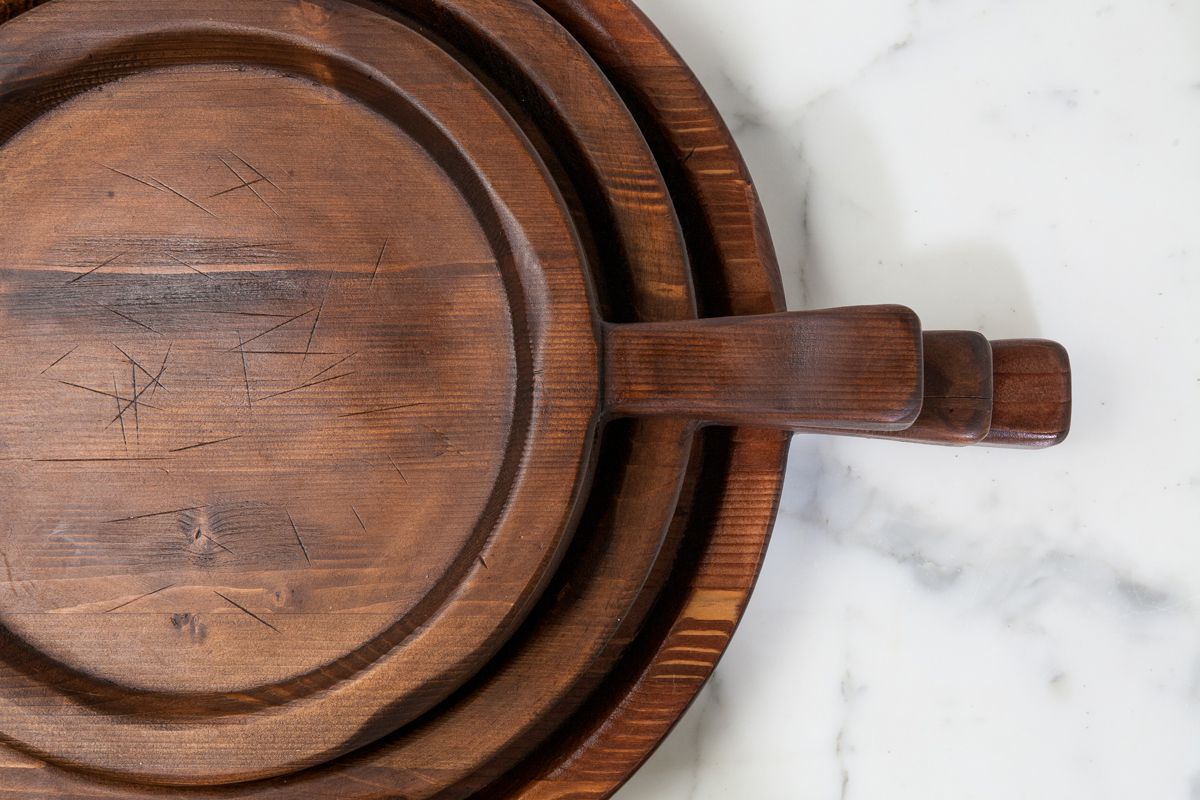 2 Easy Appetizers To Serve On A Spanish Olive Tray
Holidays are the perfect time to surround yourself with family and friends. With everyone around, there's only one thing I prepare and that's simple little dishes to hold us all over until dinnertime. By making quick little apps for everyone, it allows us to keep the laughs and conversation going without me having to run back and forth from the kitchen. I've recently found my favorite holiday serving dish to be the etúHOME Spanish Olive Tray. The rich coloring of the reclaimed wood and sturdy handle make this board a perfect vessel to deliver goodies to my entire family. These are the two fail-proof recipes I use when guests arrive to fill my home with full hearts and bellies. 
One of my favorite appetizers is an easy one, and lucky for me, I can stack them on my Spanish Olive Tray with ease. The addition of the brie and cranberry sauce send these little delicious morsels over the edge.
Kitchen Sanctuary
Cranberry and Brie Bites 
14oz ready rolled Puff Pastry
1 egg, lightly whisked
3oz Brie
6 tbsp Cranberry Sauce
Fresh thyme for garnish
All you need for these mini treats is puff pastry, beaten egg, brie cheese, cranberry sauce and thyme. Roll out the puff pastry and brush on the beaten egg. Next, divide the puff pastry into small squares and then place one on top of the other to double the height of the pastry bite. Bake the pastry at 400 degrees for 10 minutes. Once the pastry has browned, place a small slice of brie cheese on top, continue to bake until cheese is slightly melted. Once the pastry bites have cooled, top with a spoonful of cranberry sauce and a sprinkling of thyme.
The next appetizer is a mouth-watering delight. A different take on a classic bruschetta recipe, the addition of balsamic vinegar to sweet and delicious pears makes this mini appetizer fly off the tray as soon as I put it down. 
How Sweet Eats
Roasted Cinnamon Pear Bruschetta
1 whole grain baguette, sliced into rounds
2 pears, chopped (I used red bartlett)
1 tablespoon butter
1/4 teaspoon salt
1/2 teaspoon cinnamon
Pinch of nutmeg
2 tablespoons balsamic vinegar (I usedcinnamon pear)
1/2 cup mascarpone
1 teaspoon honey
Lay baguette rounds on a baking sheet and bake for 5-7 minutes at 400 degrees, or until golden brown and toasted. Set aside.
Heat a skillet over medium-low heat and add butter. Add pears, then sprinkle with salt, cinnamon and nutmeg. Allow to caramelize slowly – for about 10-15 minutes.
In a bowl, combine mascarpone and honey. Spread on baguette slices.
Once pears are caramelized, add balsamic vinegar and cook for 1-2 more minutes. Add spoonfuls of pear mixture on top of mascarpone on baguette. These can be served warm or cold.