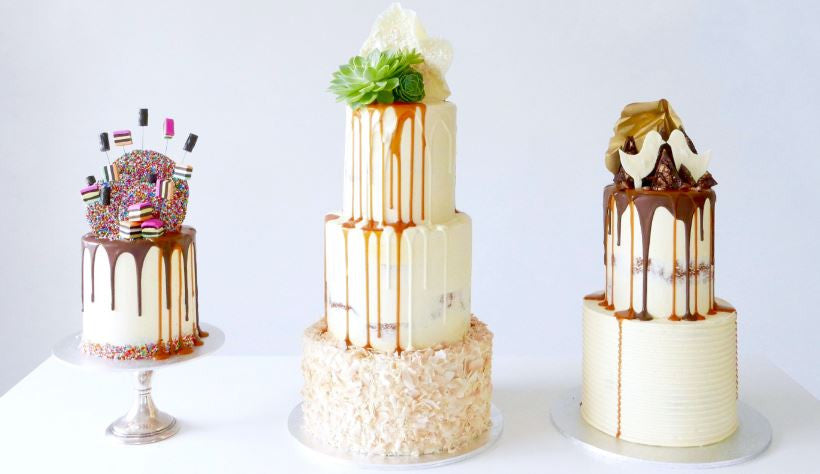 3 Designer Cakes that will Blow Your Mind
For those of you who spend just as much time on Instagram as I do, I am sure you have seen the amazing new trend that is Instagram cake decorating videos. We have compiled our three favorite videos that will truly wow you. Not only are these cakes absolutely gorgeous, we cannot even imagine how amazing they taste!
Number One
This cake video by Chelsey White (@chelsweets) is simply mesmerizing. Watching the three colors blend together seems like magic, it really makes us appreciate all the design and skill that goes into the cakes we see. It truly is an art creating a piece of dessert similar to this. The one thing that could make this cake better would be to serve it on our Short Bianca Cake Stand. The dark cake on the white stand would really accentuate the colors.
Number Two
There's something about cakes filled with candy that are so amazing to us. This masterpiece was created by Georgia's Cakes (@georgiascakes). I can't imagine slicing into an already beautiful cake and finding another yummy surprise in the middle. Not to mention the decorations flowing over the cakes two tiers. With the vibrant colors we know this cake would look great on our Mod Block Cake Stand. The white base would truly make the colors on the cake pop. From all white cakes to brightly colored cakes, this cake stand works for everything.
Number Three
For all the chocolate lovers, this post by Whipped Cake Co. (@whippedcakeco) is our favorite video. Between the chocolate and caramel drizzle, it looks absolutely heavenly. This one might even be worth trying at home. We can imagine it would be even more beautiful on our Bordeaux Tall Cake Stand. The richness of the reclaimed wood would accent the chocolate drizzle perfectly.