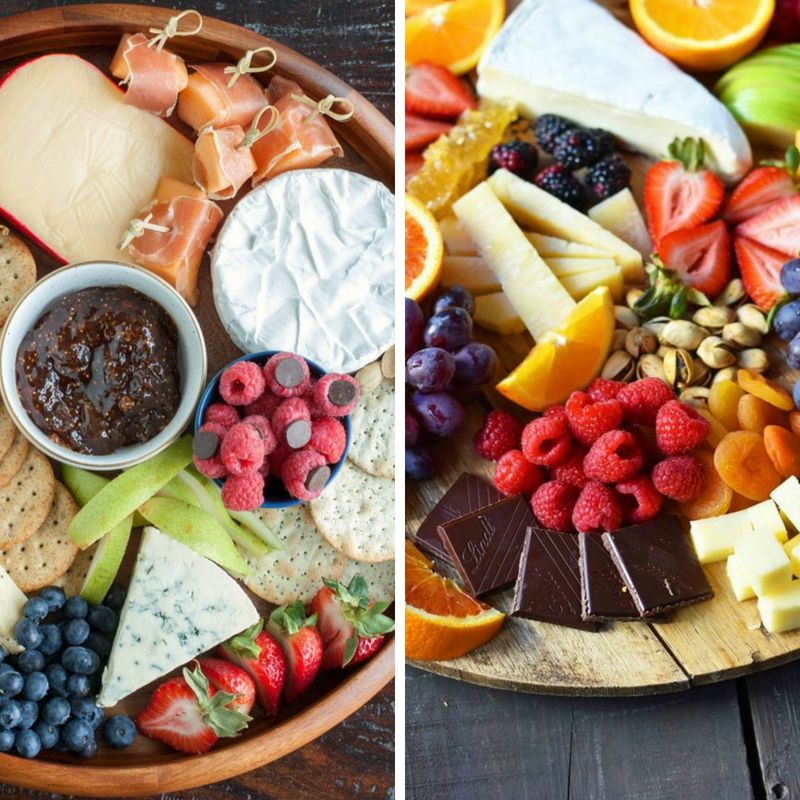 A Charcuterie Board For Every Season
Everyone, everywhere can now hop aboard the appetizer trend that can do it all. People are going crazy over the charcuterie board trend and why not, when it combines all of the tasty treats you love all in one place? Whether you are hosting a summer gathering or giving your guests something to munch on while they are awaiting their Thanksgiving turkey, we truly believe a charcuterie spread can be appreciated by hangry guests everywhere. Assembling one can be easy or difficult, based on how well you know your flavor profiles but don't worry – we have laid out a basic charcuterie spread for every season, so you don't have to fret next time you're hosting at your place. 
Summer
It's summertime and the weather is hot, hot, hot. With that being said, charcuterie board spreads in the warmer months can tend to be more challenging due to the fear of cheese melting. However, it's no problem – just keep all of your cheeses in the fridge and take them out just before guests arrive. Another easy hack is to clear out some space in the fridge so you can assemble your entire board and pop it in the fridge until guests are ready to eat. In addition to an assortment of meats and cheeses, we also recommend taking advantage of the fresh fruits that are in season during the summer and incorporating them into the exquisite flavors of your board.
Cheese: Cheddar, Goat Cheese, Provolone
Meats: Prosciutto, Pepperoni
Fruit/Veggies: Strawberries, Grapes, Blackberries
Extras: Honeycomb, Prosciutto-Wrapped Cantaloupe, Pistachios, Chocolate, Orange Preserves 
Fall
As the weather becomes cooler in the fall, seasonal flavors like apple and pumpkin also like to make their debut. When arranging your charcuterie board, don't shy away from appealing to the flavors of the season. Get clever with how you incorporate new flavors – pumpkin seeds are a great way to bring out fall flavor in a small but mighty way.
Cheese: Brie, Havarti, Manchego
Meats: Mortadella
Fruit/Veggies: Apples, Pomegranates
Extras: Breadsticks, Thyme, Candied Ginger, Pumpkin Seeds, Olives 
Winter
Charcuterie boards do not have to be the same format that you always see them in. We challenge you to be bold and not afraid to mix things up a bit! With chilly winter weather, there is nothing more comforting than the nice warm hug that fondue will give you. Add in some warm crusty bread on your board for easy dipping and don't be scared of alternating hard and soft cheeses on your board, for guests who like to stick to tradition.  
Cheese: Fondue, Parmesan, Mozzarella, Gouda
Meats: Andouille Sausage
Fruit/Veggies: Red grapes, Rosemary crackers, Apple Butter, Toasty/Crusty Bread for dipping 
Spring
The spring season introduces a time where bright and colorful bulbs pop out after the winter months. Have your charcuterie boards make the same bold statement as the first day of spring with a colorful arrangement. Be bold and mix bright colors or stick to one theme to bring the whole spread together. For a bright orange tone board, the bright orange of Colby Jack can be paired with similar colors through carrots, cantaloupes and baby tomatoes
Cheese: Colby Jack, Blue Cheese, Pecurino
Meats: Salami, Soppressata
Extras: Blueberries, Dried Apricots, Snap Peas, Hummus, Banana Chips, Radish
Be sure to check out our large selection of Pizza Boards and Serveware to get a charcuterie spread started today!
Picture Credit:
Food Lovin Family
Modern Honey
Half Baked Harvest
Brit & Co
Crate and Barrel
Freutcake
Damn Delicious