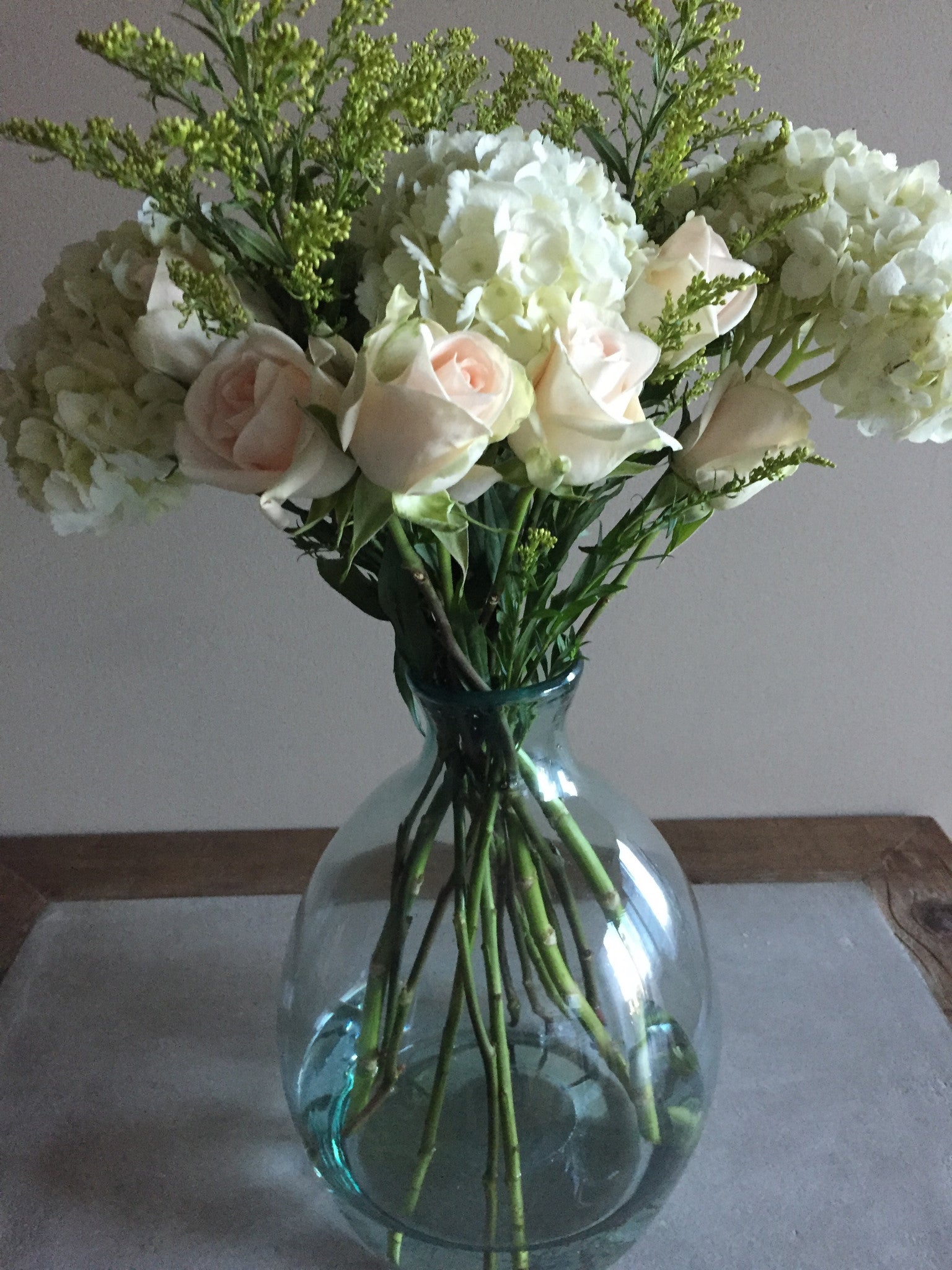 Adding this One Flower will Change your Whole Arrangement
There's nothing quite like fresh flowers in your home. Whether it's in the kitchen or the living room, we think blooms belong everywhere! However, we know that sometimes it's difficult when you're looking at a wall of beautiful flowers and you just don't know what to pick. We'll show you our favorite flower that looks wonderful in any arrangement!
Step 1: Pick your favorite vessel! Some of our favorites are the Artisanal Vases, Mason Jar Flower Vase, 10L Mason Jar and White Colorblock Mason Jar. For this arrangement, we chose the Small Artisanal Vase. Made of recycled glass, this vase has a beautiful blue tint.
Step 2: Start with some of your favorite blooms! We chose to start with some very light pink roses. While we often see roses in an arrangement on their own we are drawn to pair them with other flowers.
We began by just using a handful of our roses as to not overpower our arrangement.
Make sure to cut your flowers at an angle when trimming them to an appropriate length. Cutting the stems at an angle allows your beautiful flowers to live longer! Before placing your trimmed stems in the vase, remove all leaves that may reach the water.
Step 3: We love to always add some type of greenery to every floral arrangement. It breaks up the blooms and adds some shape. Start with a few pieces of greenery and you can always add more where it is needed!
Step 4: Add in our absolute favorite flower – Hydrangeas! We think white hydrangeas are the one flower that can always add fullness and fun to any arrangement! We always find ourselves drawn to these blooms at the market.
You only need a few hydrangeas to complete the arrangement because they are so large. Fill the empty spots with these stems and you will have a beautiful arrangement on your hands!