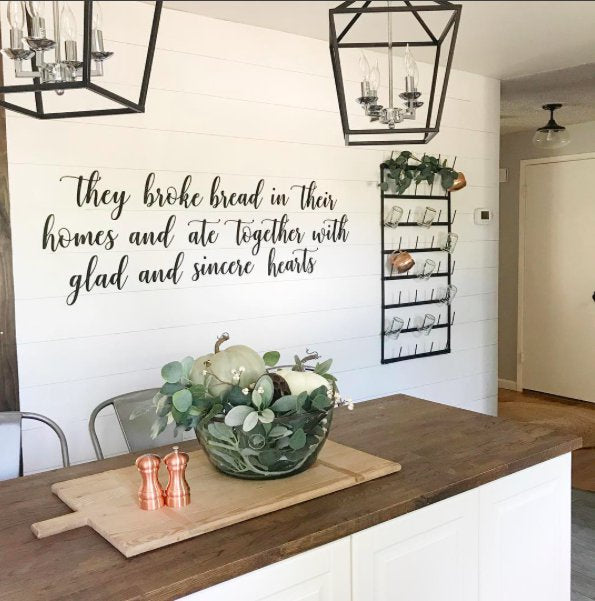 Three Favorite Ways To Use Pumpkins
Now that the season of golden crunchy leaves is upon us, you instantly have an excuse to hit the pumpkin patch and splurge on your favorite fall fruit (yes it's a fruit, who knew?) I can't lie, pumpkin and pumpkin spice are some of my guilty pleasures in life. I love to decorate, serve and bake with anything pumpkin. Of course, in order to set the tone, I have pumpkins, of various shapes, sizes and colors gracefully displayed throughout my home. 
Decorate.
The first rule of thumb for fall decorating, is don't overdo it. Pumpkin décor does not have to be loud to get the message across. I love how Dreaming of Homemaking filled etúHOME's Large Demijohn Bowl with pumpkins and greenery. The muted color scheme displays fall style without an exuberant orange to take away from the rest of the room's décor. The glass bowl can also double as a salad bowl to serve up a fresh fall inspired salad like my new fave, a Pumpkin, Feta and Basil Salad. 
Serve.
There is nothing better than your food presentation looking as wonderful as it tastes. I have always been into edible centerpieces. Come autumn, it's all about rustic elegance for me. My recent favorite is how Tablescapes in Style incorporates pumpkins, seeds, nuts and grains. Featured prominently on one of the etúHOME serving boards, the etúHOME cloches the perfect topper to cover the soft herb crusted cheese. Sprinkle some raw pumpkin seeds, peanuts in the shell and a mixture of freshly sliced baguettes and crackers, for an almost too pretty to eat charcuterie spread. 
Bake.
Like I said before, especially this time of year, if the ingredients call for pumpkin, I'm making the recipe. There are endless amounts of recipes that call for the seasonal fruit and I am eager to get my hands on each and every one. When it comes to baking, my favorite pumpkin bread recipe is easy to make and I switch up my baking dishes depending on how many guests I'm serving. The etúHOME Oval Baker in small or large never let me down. The white European clay of the baking pieces, means I don't have to be ashamed of them when they rest on my counter for cooling down. Or better yet, when I bring it to the table to serve straight out of the baking dish, that way the bread stays warm while I dish it out to guests.
Classic Pumpkin Bread Recipe:
 Makes 2 loaves
Preheat oven to 350 degrees. In a large bowl, mix together 2 cups of pumpkin puree, 3 cups of white sugar, 1 cup of vegetable oil and 4 eggs. 
In a separate bowl, mix together the dry ingredients, 3 1/3 cups of flour, 2 teaspoons of baking soda, 1 teaspoon of cinnamon, 1 teaspoon of pumpkin pie spice and 1 ½ teaspoon of salt.
Combine the wet and dry ingredients thoroughly. Then pour them into two well- greased baking dishes untl they are about ¾ of the way full. We recommend using our Large Oval Baker. Bake for 45-55 minutes at 350.
 Bon Appétit!