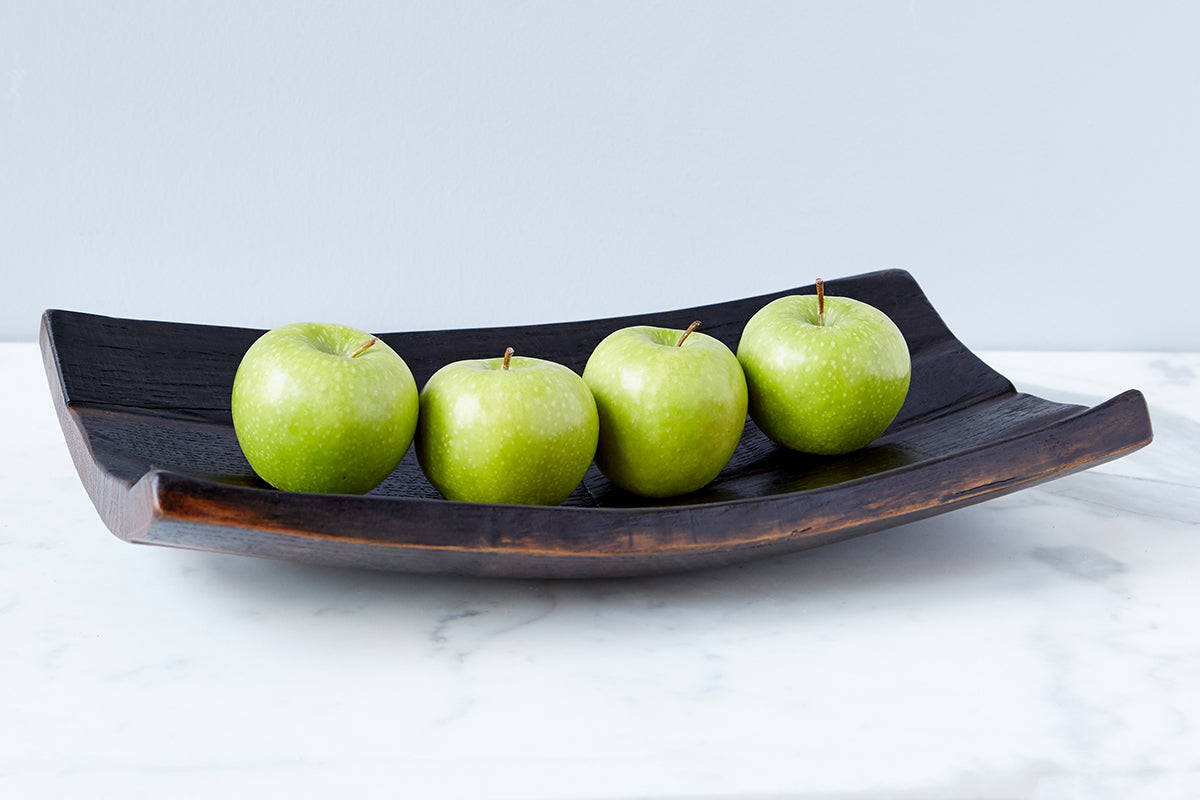 Fall Faves We're Loving.
You may have heard that spring is for cleaning, but did you know that fall is for reinventing? Step out from the traditional fall décor and grab something for your home that is unique this season. So, forget the cornucopia and corn husks and take inspiration from the harvest season of European vineyards and cities. These eclectic pieces easily transition from season to season, and will be the showstopper products that you'll never want to put away.
The Stave Tray is a unique home accent made from a vintage wine cask that can be easily filled with seasonal fruits, vegetables and decorative accents. During the spring, showcase the tray with an overflow of sphere vases that are accented with single stem flowers. With rustic characteristics and charm, the serving tray is the perfect contrast to the clean lines of the glass spheres. When summer comes around, this tray is an ideal spot for ripe lemons and during the fall, swap the citrus for fresh apples in light greens or lively reds. 
Because we choose to draw inspiration from European cities this fall, it only makes sense that our French Bon Bon Jars stole the show. Glass elements are crucial to any design and these larger, fun candy jars are some of our absolute favorites. The glass jars are great by their lonesome in winter and spring and can become beautiful fruit bowls in the summer. For the fall, fill them with treats, candy and cookies to live up the holiday sugar rush!
During the fall, don't skimp out on providing plenty of options for the entertainers who host all kinds of gatherings in preparation for the holidays and football season. The Round Footed Serving Board is our pick for a timeless, go-to cheese board. The board paired with a glass dome keeps everything nicely contained and the handle adds mobility to the board for effortless serving. Like the Stave Tray, the rich coloring of reclaimed wood adds that warm autumn charm that brings together any space. 
For décor that is not obviously autumn inspired, the Large Demijohn Bowl is an essential. From dishing up a beautiful salad, to holding smaller fall accents, the glass bowl doubles as both a great serving and decorative piece. The crisp and clean blend of recycled glass and the little copper details allow the bowl to be an amazing accent in any neutral fall décor. The copper rim around the edge is just bronze enough to give off a subtle autumn vibe.
Shop the rest of our fall favorites by heading over to our collection here.