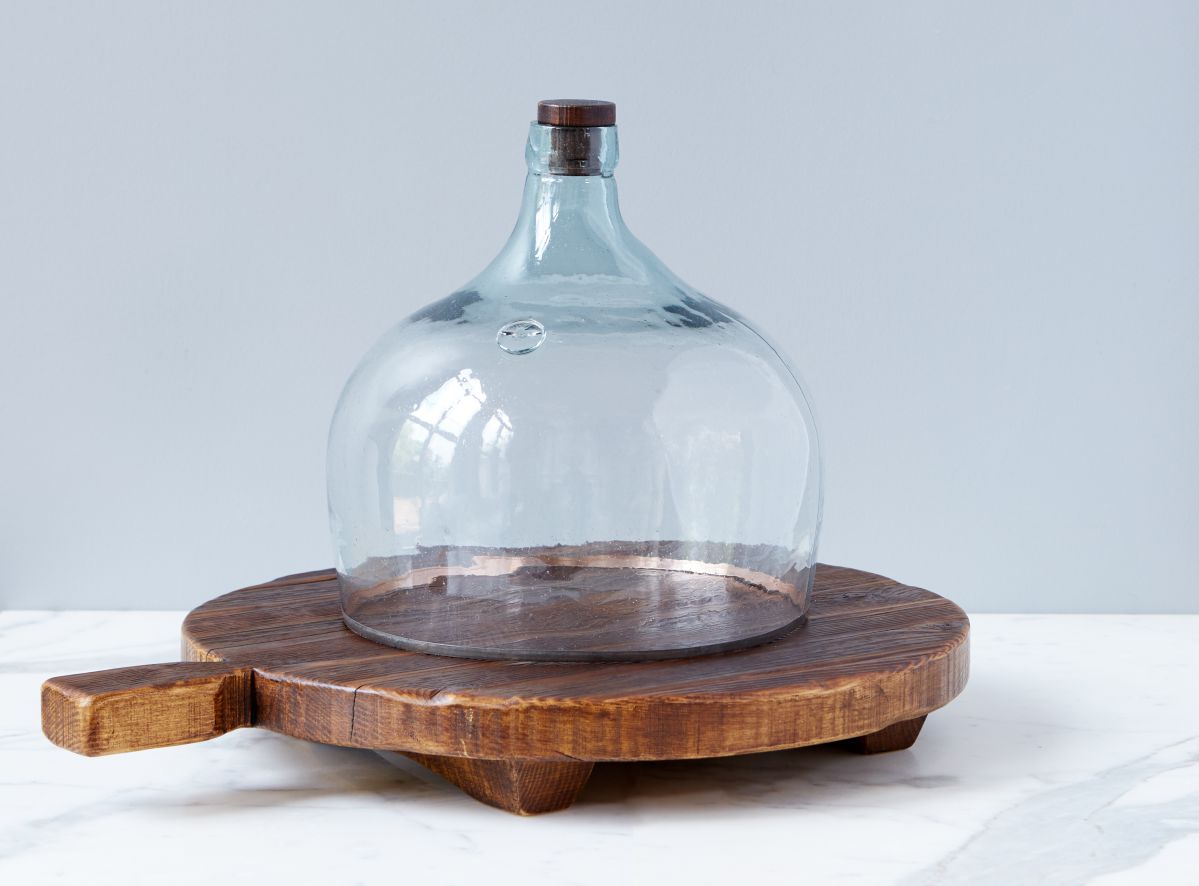 Holiday Ready Styling Ideas For Your Counter
There's no greater feeling than bringing people together, especially during the holidays. I for one, have not always stuck to traditions and love the idea of a counter that's filled with seasonal elements instead of passing them around the table, allowing me to create a statement centerpiece. At your next gathering, give yourself ample space at your table by dressing up your counter so guests can serve themselves straight from your kitchen. With etúHOME products, my counter spread looks curated and beautiful with minimal effort. 
For an appetizer arrangement, I would recommend an assortment of dips, warm and cold. I like to dish out Roasted Beet and Walnut Dip, Charred Eggplant and Tahini Spread and Feta Dip with Watermelon Radishes in etúHOME's Small Bundt Bakers. Break from traditional dip bowls and try these bakers! The matching set of three exudes a clean, natural look. Because they are oven to table, the bakers make for seamless serving and keep baked dips warm. Place the three bakers on a Round Oversized Footed Serving Board and line up a mixture of vegetables, crackers and sliced baguettes around each bowl for dipping. 
If you are serving up a meal that consists of saucisson, soppressata, pâté and your favorite fromage, there's no better statement maker than our Large Oak Charcuterie Board. The round version is a classic, but the rectangle is just as stunning and more closely resembles a classic cutting board shape. We are always in favor of pieces that have dual functions, cutting and serving. Add in some fresh herbs and greenery around the main course and you'll have an effortless presentation. 
Serving up sides can sometimes look cluttered with an array of mix and match dishes. Luckily etúHOME has some beautiful pieces that also double as serving dishes. I always talk about it, but the Large Demijohn Bowl is truly my number one salad bowl. The glass is so clean and pretty and my guests love that they can see everything that I've mixed into the leafy greens. For smaller sides, I like to use the Demijohn Bowls for green beans and garlic and herb red potatoes. I always make sure to have a couple extra on hand for my guests that would like to contribute, in order to maintain the clean presentations. 
For my grain and breads like classic dinner rolls, I always gravitate towards etúHOME's Catalan Bowls. I wrap the rolls up in a grainsack dish towel, as soon as I pull them straight out the oven while they're warm and place them the bowl. 
It just wouldn't be a party without dessert. And because it's fall and I can't resist, I'm baking up a fair serving of pies for the occasion including pumpkin and pecan pies made with fresh ingredients from the local market.  The Short Bordeaux Cake Stand is the perfect addition to my seasonal décor and wide enough to hold the average pie dish. To add to the spread, I incorporate different sizes of trivets so that any additional desserts will have a designated and beautiful place on the table.
Organic Apple Pie
Yields: Varies depending on size of pie slices
INGREDIENTS
1 pie crust (preferably homemade)
5-6 organic Gala apples, peeled, cored and sliced
3 tbsp freshly squeezed lemon juice
⅓ cup agave
⅓ cup brown sugar
⅓ cup flour
1 tbsp freshly ground cinnamon
1 generous dash of freshly ground nutmeg
2 tbsp butter
1 egg + 2 tbsp water, whisked together (this is your egg wash)
DIRECTIONS
Preheat oven to 425 degrees F and carefully roll out one of your pie crusts and gently press it into a greased pie dish, allowing excess to hang over the edge. Cover lightly with plastic wrap and stick it in the fridge to chill.
In a large bowl, toss apple slices with lemon juice, sugars, flour and spices and leave enough time for it to all sit and mix together. Spoon your apple filling into the chilled pie crust. Cut small pieces of butter and sprinkle over the apples. Roll out the remaining pie crust.
Cut into strips ½ inches to ¾ inches wide. Place one layer of strips across the pie, over the the apples, spacing strips about 1 inch apart. Next, put down the other layer on the opposite side and weave each strip over and under the first layer to make a lattice effect. Press down on the edges of your pie crust to seal top and bottom layers together. Trim overhang, and crimp all around to make a stand-up edge. (If you want it to look extra pretty, you can press a few extra strips of crust around the rim of the pie - you should have plenty of strips leftover.)
Brush egg wash lightly around the edge of the pie, and cover with a pie crust shield if you have one. Bake for 30-35 minutes, or until top is golden brown and juices are bubbling. Let cool for at least 30 minutes. Slice and serve with freshly whipped cream.