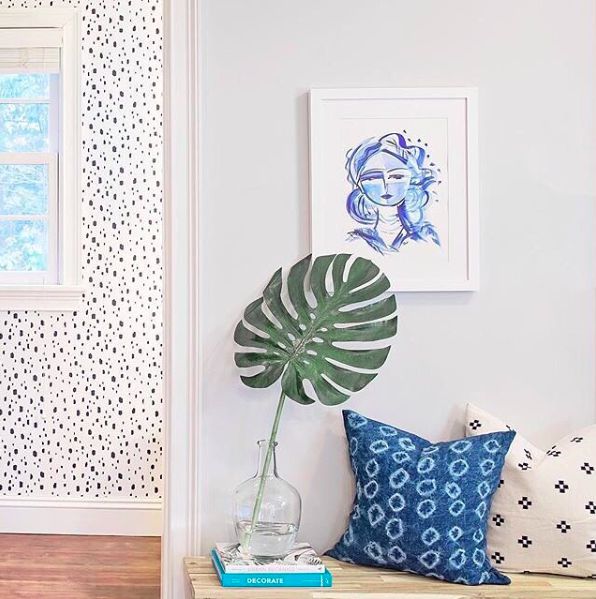 How To Decorate Like Your Favorite Designers
The buzz is in. People love interior design. Making your house into a beautiful home that reflects your personal style has everyone stirring. Sure, there has always been a prominent theme of redecorating throughout television and culture, but with the rise of social media, design tips are truly at your fingertips. It feels like we are practically following around our favorite designer sans television camera and can see every design, trend and inspiration that has led to their great success. So what are some of our favorite designers doing these days? Let's take a look at their Instagram feed and take away a few pointers. 
Don't be afraid to mix patterns and colors.
Once you see a signature Caitlin Wilson (@caitlinwilsondesign) design, you'll never be able to think about anything else! Wilson's statement making play on patterns and colors remind us to never be scared of having fun when decorating. Next time you are redoing a space, start small by mixing in new throw pillows with intermixing patterns and then go from there! Little things with lively textures and prints like blankets and throws are a great way to add life to a space while still playing it safe. 
Let your countertop do the talking.
When it comes to design that looks contemporary, but remains bold and exciting, Emily Henderson (@em_henderson) does it all. We love that Henderson is never afraid of color or straying from typical design norms. With this in mind, Henderson is known for her clean lines and the ability to pull together just about any space. When decorating kitchens, Henderson never fails to let the countertop do all the talking by accessorizing. Wood cutting boards, ceramic pitchers and crocks are all great ways to add personal style to your kitchen design. By doing so, you can add neutral elements to a colorful kitchen or vice versa – playing around with these accessories and switching them up from time to time always makes for a fun setting to cook! 
Bring the outdoors in.
If there's anything Shea McGee (studiomcgee) has inspired us to do, it's decorate! The woman is topping the charts right now and seems to have her hands on every design project possible. We can't wait to see what's next! The neutral aesthetics she creates invoke a calm and cozy environment. One way that she achieves this is by incorporating outside elements like plants and flowers into the space. Plants instantly bring an organic element into the design and make a place feel more inviting. Don't have a green thumb? No worries, there is plenty of beautiful faux plants available for purchase on the internet that won't break the bank! 
Let us know – what are some ways you decorate and design like your favorite interior designers? There's so many amazing designers out there, we want to hear who your favorites are!