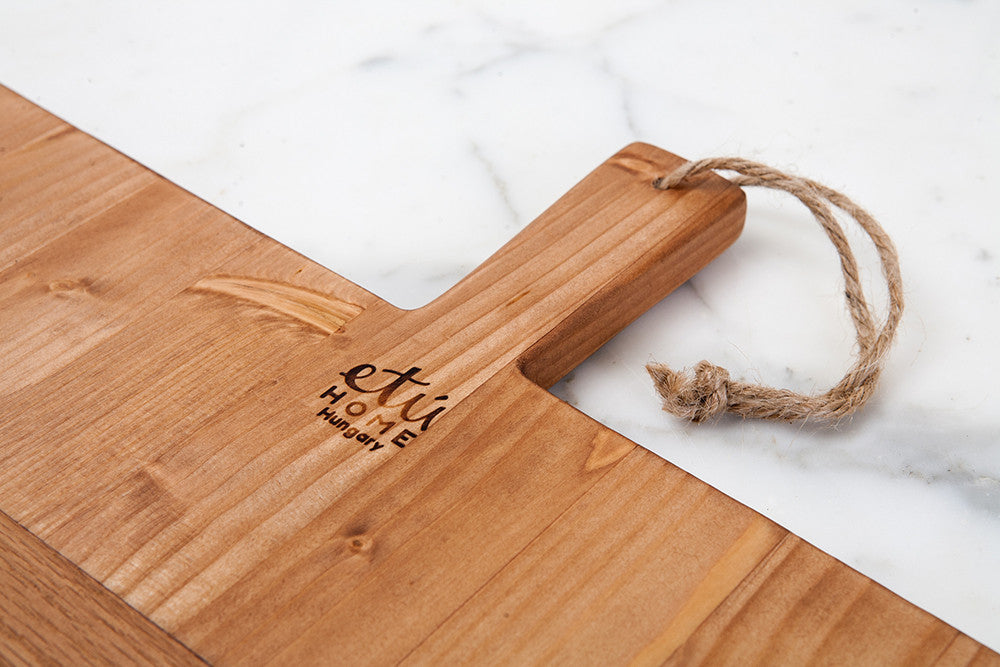 It's The European Way
Want to know a little secret? Well, a series of circumstances collided which led to the creation of what we now know and love as etúHOME. It was through a passion for hunting down European antiques as well as a love for the rotating trends of the home décor industry that led the company into fruition.
When you think of etúHOME, there are three things that instantly come to mind. Firstly, every piece from the small items (like a cutting board) to the larger items (like a dining table) are all inspired by the European way of life. Owners Stacy and Joe Borocz were inspired to share this lifestyle after spending their time living and traveling throughout Europe. They quickly found themselves wanting to encapsulate the beauty of Europe in the etúHOME products so that they could then be shared with the rest of the world.
Secondly, etúHOME is founded on an environmental promise. At etúHOME beauty and sustainability go hand in hand. No new wood is ever used in the making of any of the products. Whether it's a serving dish, a cutting board or a dining table, every product will be as unique and authentic as the wood that is used to create it. The same sustainability promise applies to each glass product, all recycled and mouth-blown to keep their natural and organic beauty.
And thirdly, in case you didn't know, every product created at etúHOME is handcrafted in Europe. Every one of our employees, from the offices in the United States to the factories in Hungary, are paid a fair wage. Every piece is touched by hand at each individual step of the creation process. This makes each item extra special as they all have a human touch and a true unparalleled level of  craftsmanship.
To better explain all of this, I'll tell you all about the Provence Table. This rustic kitchen table exemplifies the three main aspects that come together to form etúHOME. To start, the Provence Table was inspired by an antique farmtable commonly found in Provence. The French country style table is popular in all Provencal homes that are native to southern France. This specific region of France is known for its laid back and easy going lifestyle, centered around family, friends and good food. In Provence, meals are never rushed and often are enjoyed in 3-4 courses. The locals know the importance of savoring every moment, especially when it comes to eating. Naturally, the kitchen is the principal aspect of this idea, transcending into why etúHOME designed a piece where friends and family could come together and enjoy life like those in Provence.
That's not all though. The table is also constructed completely from reclaimed wood and then it is stained a beautiful rich brown. To finish it off, a beeswax is buffed onto the table. This is done not only because of it's organic and food safe properties but also because it creates the perfect patina. By applying this finish to the tables, you can be confident in knowing that it's free of any harmful chemicals, something that has become a more conscious effort in society over the years. Not only will the wax help to provide the piece with one of the most natural looking finishes available; it also brings out the true beauty of the wood and natural grain. It forms a rich coating that will allow the furniture to withstand abuse creating a truly antique look with rich patina. 
As you can imagine, this idea of "taking things more slowly" is a predominant trait of European culture. Every aspect from eating to shopping to creating goods is done all in due time. We believe that these are the key details that make etúHOME so special. Today, the world is busy and chaotic and we often forget to put down our cell phones and greet those around us. For each thought-out and tended to step, from the time it takes for each individual person to create one our products, it becomes more than a purchased good, it transcends into a lifestyle. The idea that anyone can transform their kitchen or home into a relaxed and warm space is one that etúHOME has inspired in my own life.
My advice for anyone looking to escape the norm of a busy schedule and live a more European lifestyle would be to start with the etúHOME Provence Table. Let the reclaimed wood table be the staple of your kitchen. Go out and buy the freshest ingredients, or better yet, pick them from your personal garden. Spend the whole day diving into the flavors of a perfect meal taking in the wonderful aromas of your recipe bubbling in the oven. Invite friends, family and loved ones over to share more than a meal with, but also meaningful conversation and laughs. Light your favorite candle and let it fill the room with a comforting scent. Before you know it, the day will have passed and more likely than not, you will be more relaxed than when it started. The dishes can wait until morning, trust me.