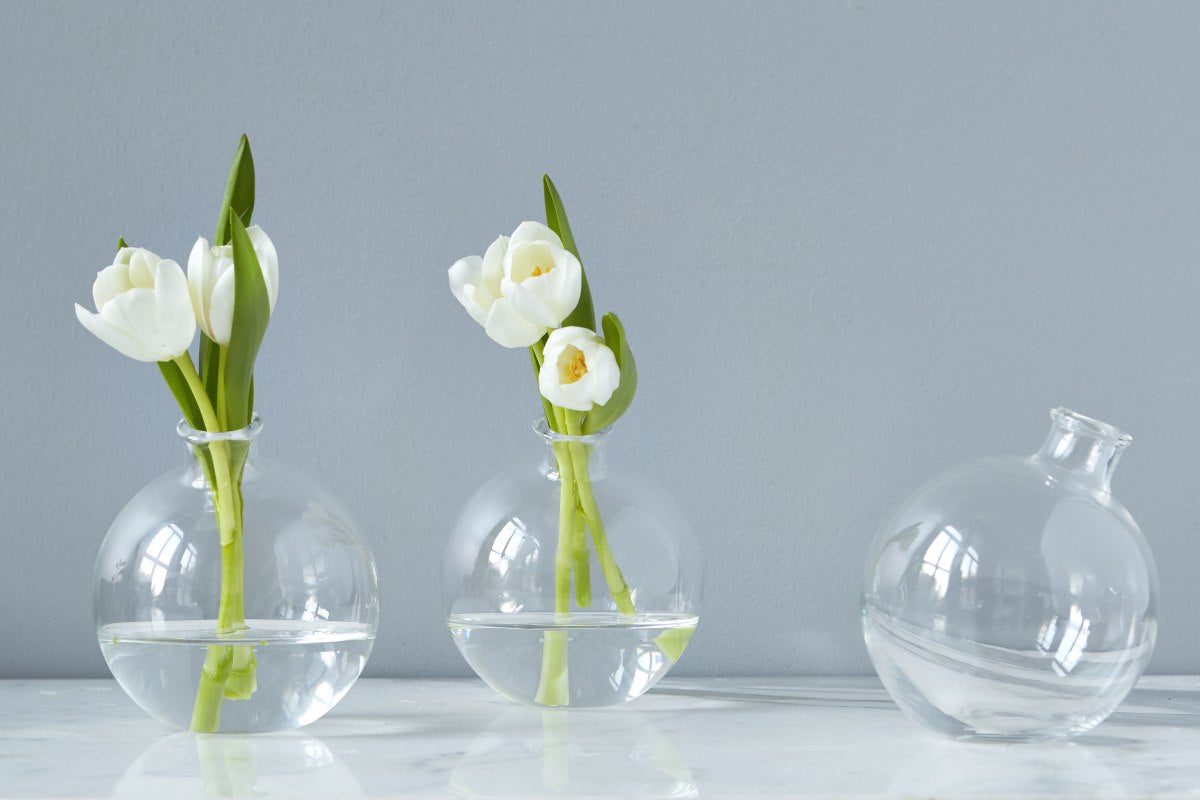 Looks I Love From etúHOME
Just in time for Valentine's Day, I wanted to highlight a few looks I love from etúHOME. The handcrafted nature of the product, alone is enough for me to go crazy over but there's a few noteworthy products I'm currently smitten with. 
These mouth-blown vases are an absolute dream. The clear Sphere Vases are the perfect size for a side table. In fact, I have one vase on each nightstand in my guest bedroom. I love to put them there when I have company over so I can fill them with fresh flowers or candies. Then I have my guests take them with them when they leave as a nice little take-away. More than anything, I love that the sphere vases are so versatile. Just one vase looks amazing with a few blooms and if you have more than one, they can be stacked up to fill up a bowl. 
In case you haven't heard enough, I have fallen for the Charcuterie Board trend. The wooden serving boards are an amazing accent in any kitchen. I couldn't imagine a better board than the Oak Round Charcuterie Board for parties and entertaining. The opportunities are endless when it comes to appetizers and spreads to display on the rustic planked board. Not only this, but the board is composed of oak, making it an ideal spot for chopping and prepping meals. Mine practically lives on my countertop and serves as the hub of my kitchen. 
This long serving board is a great item to have on hand if you love to host! I recently gifted this item to my dinner party loving friend, fully knowing she'd get great use out of the Large Farmtable Plank. My trick is to bring the board out for when you want to serve a meal "family style." Just run the board down your table, cover it in food and let your friends and family take care of the rest! It's also a great centerpiece for a large table, filled with votives and greenery. 
If you don't have a cloche, in your kitchen – you're truly missing out. I seriously underestimated just how much I would love this glass food cover. It's a great staple to have sitting on a cutting board or trivet in your kitchen, ready for food to be placed underneath. I love to bake fresh goodies and display them under my Demijohn Cloche so the display looks just as good as they taste! It also enables that cozy, "help yourself" environment that I instill in my home whenever I have company over. Simply lift the cloche and treat yourself! 
I don't think you can ever have too many vases. In fact, I prefer to have an entire range of flower vases for varying party themes and different rooms in my home. I adore this particular vase because of the contemporary look the white on the bottom gives it. The design of the White Colorblock Flower Vase is ideal for any longer flower, like a tulip, that droops and falls as it blossoms. Because of this, the flowers appear in great condition, even when they are on their last leg!