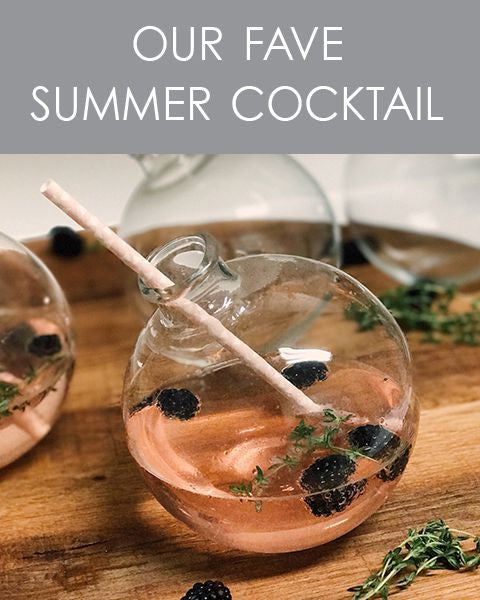 My Fave Summer Cocktail
There is no better way to cool off during the hot summer weather than with a nice cocktail. When it comes to entertaining, impressing guests with your bartending skills is one of my biggest hostess tips. My recipe for this perfect champagne cocktail is an easy summer pick me up you can make in less than 15 minutes. 
All you have to do is put equal parts water, sugar and blackberries into a saucepan and let them simmer to form a syrup. Once it has all come together, drain the blackberries so you have the sweet syrup by itself.   
Next, pour the blackberry syrup into a glass, my favorite drinking glasses are the unique sphere vases from etúHOME. Top off the rest of your drink with champagne and pop in extra blackberries and sprigs of thyme for an herbal infusion. 
I grabbed a couple fun straws to add a little something extra to them (and make them easier to drink out of!) and they just add to the cuteness. These cocktails truly are the perfect light and refreshing drink for summer. I can't wait for the next time I have people over and can give each of them these fun little babies for a great night out.