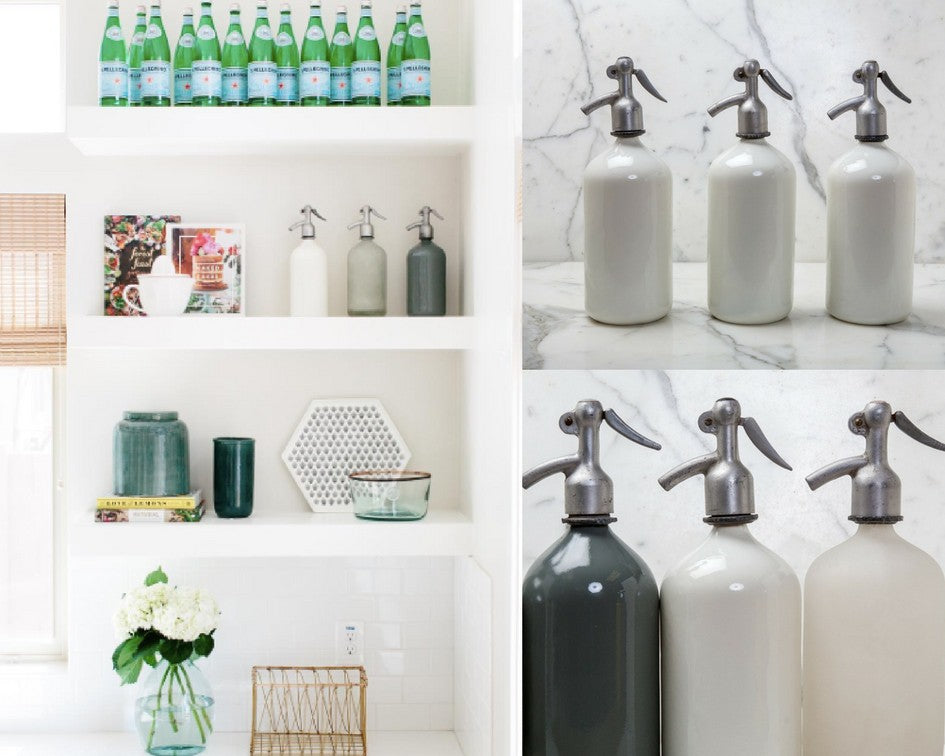 The One Color You Need To Maintain Your Modern Style
There's nothing I love more than seeing how etúHOME's products are being used in homes and designs around the globe. To be honest, I'm a little obsessed with my kitchen right now and it's all thanks to the white decorative accents I have dotting the space. To me, white exerts a sense of cleanliness and purity that boasts itself in no better place than in my kitchen. Not only that, but it also helps me effortlessly achieve that modern vibe that I have found so hard to display in a space I also want to feel warm and inviting. So whether you are decked out in white, or like me, it is an accent color, I'm providing some white décor inspiration for your dream kitchen. 
@lexiwestergard_design
If you're a fan of the open shelving concept like what is seen here, then seltzer bottles can do no wrong. I love how Lexi Westergard used etúHOME seltzers in her kitchen as a unique way to break up her shelf décor. The found bottles are finished in a high gloss white paint, keeping true to their classic nature, yet providing a modern touch. 
@cakebycourtney
When in doubt, the best way to dive into the white trend is with the etúHOME Bianca Collection. The collection boasts the modern look of high gloss white paint with striking galvanized accents. With a wide range of kitchen accessories in the assortment, it has never been easier to create a look with just a few pieces. I came across this picture from Cake By Courtney and I can't lie, the cake looks divine on the white cake base. If you are searching for a simple display with extravagant style, look no further. 
@kindredvintage
No kitchen is complete without a bouquet of fresh flowers. The White Colorblock Mason Jar is the perfect vessel to subtly add white accents into your kitchen. As seen above in Kindred Vintage's photo, the Mason Jar serves as an ideal vase for fresh blooms, but can also be used to host rolling pins or even a collection of dainty oven mitts. 
@klinteriors
Another amazing product from the Bianca Collection, the Round Knife Block is a necessity for a kitchen that demands some clean coloring. I stumbled across Kate Lester Interiors photo of these etúHOME charcuterie boards and could instantly picture how great the knife block would fit in the space. The combination of the natural wood and bright white give off a lived in feel that still appears pristine in the process.