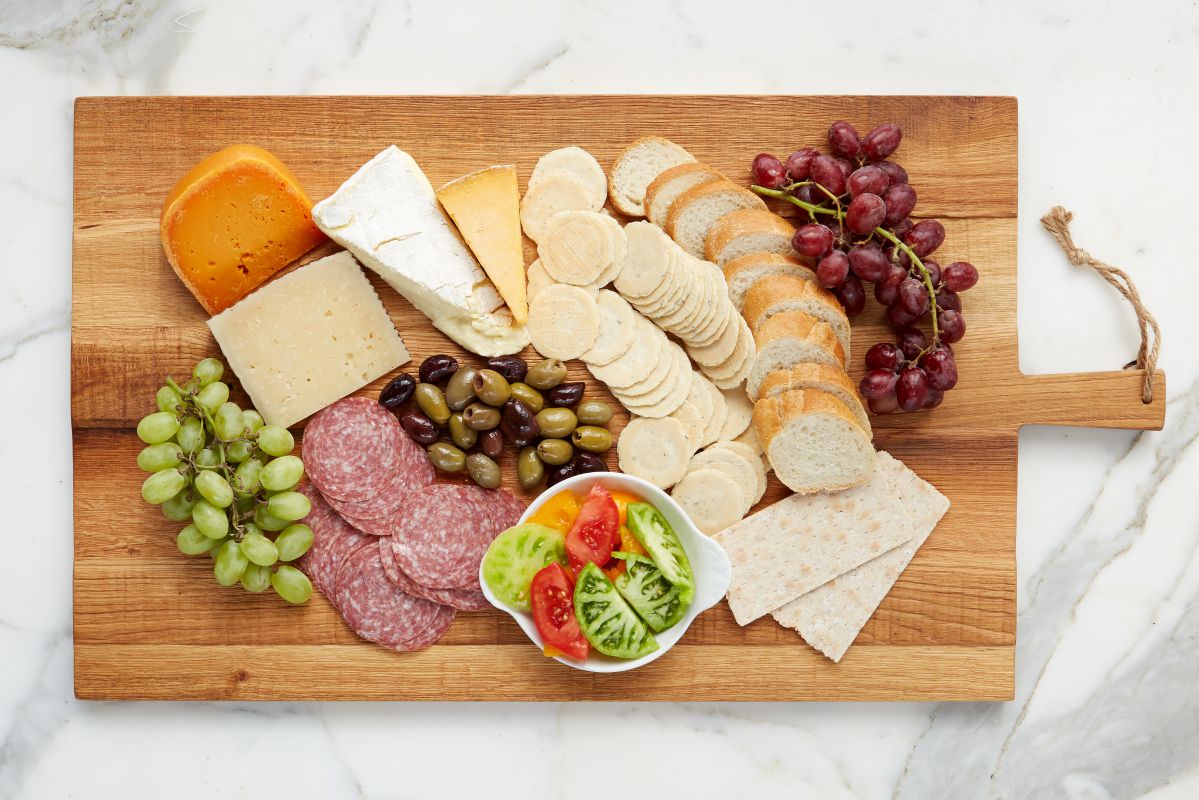 The Reason You Should Throw Out Your Current Charcuterie Board
Charcuterie boards are everywhere right now. The beloved cheese board is trending and I don't see it fading away any time soon. And how could it, when there are so many great options out there? With plenty of different versions of the great wood boards available, I have a hard time determining which ones are worth my time and money. However, through careful evaluation, etúHOME's charcuterie boards are my winning medley. 
I embrace the Charcuterie Board selection from etúHOME for several reasons. The first being that the company is 100% sustainable - everything from the way their products are made to the materials they use. I am fully confident in their products, and because they are such great quality, it's a feel good purchase every time. While other companies make their boards from bamboo that's often glued together with harmful chemicals, etúHOME's are composed of natural, reclaimed wood, sourced from Europe. Each piece is hand-finished by local artisans giving it the perfect authentic touch. 
Secondly, etúHOME offers their famous charcuterie boards in several different versions. The first is in their original Pine. The pine bread boards come in a range of shapes and sizes but because they are not composed of hardwood, these are the best boards to use if you are looking for ones that are solely for design purposes like leaning against a backsplash or hanging on a sparse wall in your kitchen. 
Moreover, there are also two additional wood versions including an Oak and Beech variety. Now, when it comes to dual functions, these boards take the cake. Both boards are hardwood, so they are ideal for cutting and chopping as well as serving up a lovely appetizer platter. If you don't be careful, it may even kick your old cutting board to the curb. They are that good and meant to live on your kitchen counters and islands! The Beech is a light, almost sun-kissed wood and is absolutely stunning for those who are craving a more bohemian and contemporary look. On the other hand, the Oak is a rich wood, almost rustic in appearance. Slightly different than the other two, the Oak has two sides, one features a more rigid planked side for serving, while the side with slats is smooth for cutting. 
No matter which wood coloring and features you prefer from your charcuterie board, each board can eloquently lean against your backsplash when not in use and add an element of natural beauty to your kitchen. Not to mention, the etúHOME boards are easy maintenance. All it takes to clean your board is to rinse it off with soap and water after use and occasionally nourish it with mineral oil to bring out it's organic allure. 
After experimenting with etúHOME's boards, it was evident to me that my old cheese board just was not adding up to the ones I have purchased from etúHOME. For an easy cheese board assortment, I suggest sticking to common sense. The best thing about creating an appetizer board like this one, shown above, is that it ultimately is up to your personal preferences on how you select what goes on it. As long as there is something for everyone displayed on the board with the addition of varying cheeses and meats, you will have an amazing spread that guests won't be able to stop raving about. Not to mention, they may ask you where you got your board from and you can proudly tell them it's an etúHOME original.
Easy Fall Picks:
Meat Selection:
Anything cured is best!
Examples: Prosciutto, Salami and Pancetta
Cheese Selection:
Go with the classic: a hard, soft, blue, and aged
Examples: Gouda, Manchego and Camembert
Fun Seasonal Additions:
Figs
Dates
Honeycomb
Crackers
Grapes
Almonds
Quince paste
Olives
Arrange food directly on board in clusters, giving each item its own little section and voila - A charcuterie board fit for fall.
Want a chance to win your very own etúHOME Charcuterie Board? Enter into our Instagram contest! To enter: Follow @etu.home on Instagram, tag a friend in the comments and share your very own post of your favorite charcuterie board spread and use the hashtag #etuHOMECharcuterie. Contest will last from 11/1 – 11/7.