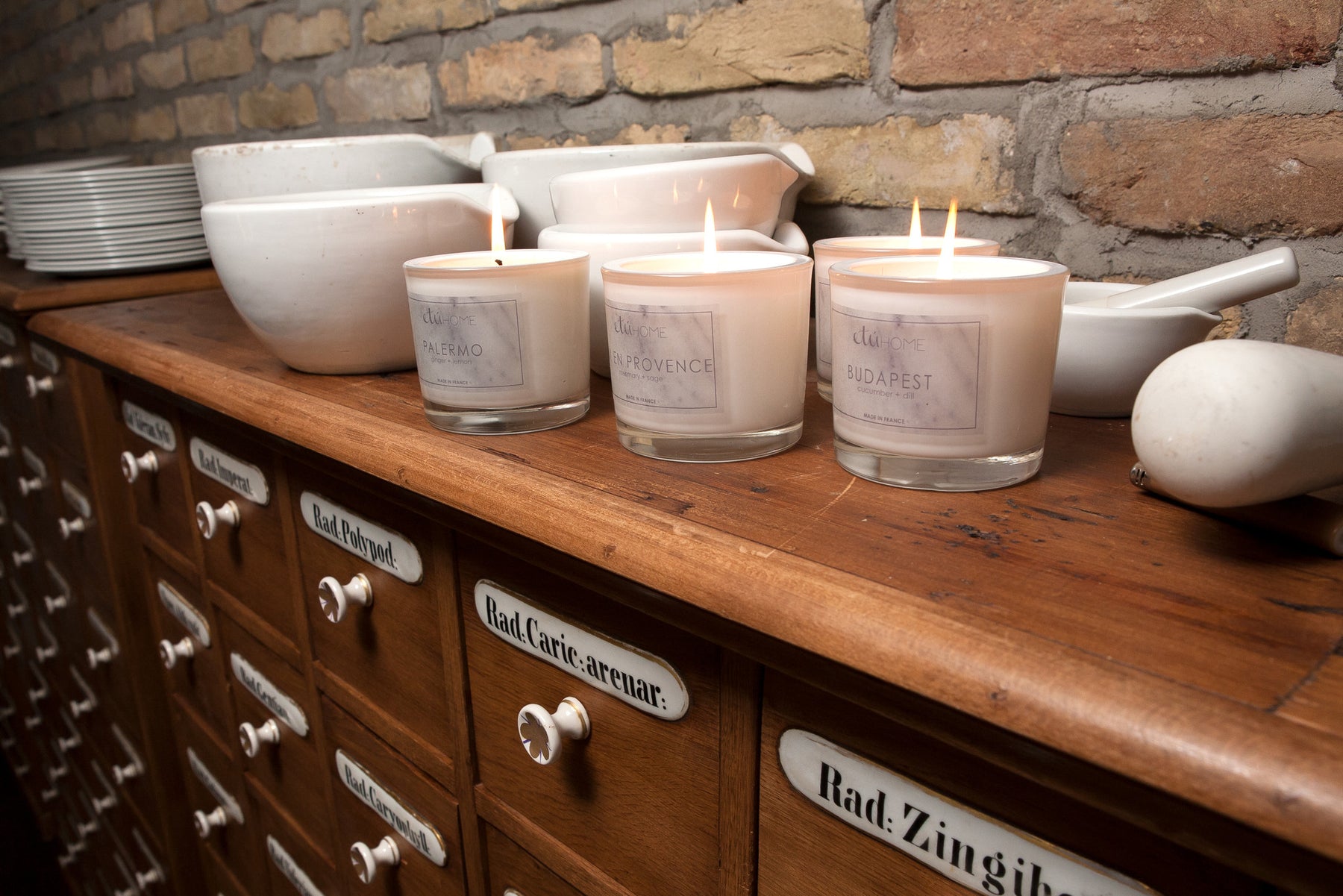 Why Fragrances are Better in Grasse
Located just north of Cannes, Grasse is a quick 30-minute drive from Nice, which makes it an easy day trip if you find yourself on the Cote d'Azur. Grasse is a relatively small town, with just over 50,000 residents, however it does receive approximately 1 million visitors annually, which is essential to the town's tourism economy.
Perfumeries like Fragonard, Galimard, and Molinard, among others, have their headquarters here.  Some of these perfume houses have been around since the late 1700s. After all, the town is known as the Capital of Perfume, as it was the French that luxuriated the scented oils.
The fragrances we found in Grasse inspired our own brand new cuisine candles. It all started with our favorite European cities. Each city has its own unique scent, whether it is from the agriculture they grow or the signature cuisine they create. For instance, the city of Aix en Provence constantly reminds us of rosemary and sage due to the herbs that grow on the local hills and fields.
Creating a scent has many steps, like any process. What makes this one so unique is that there is a unique blend of technology and human control. Scents are run through a sophisticated computer program to determine how much of each ingredient is in the fragrance. This allows for easy alteration if a certain ingredient needs to be enhanced or weakened. In the end, the decision comes down to one person. Each fragrance house has an expert perfumer, tenderly known as "the nose." Similar to a wine sommelier, an expert perfumer has an incredibly keen and fine sense of smell, which allows them to create spot-on compositions.
We took our favorite scents from each city and transformed them into six exclusive candles. Each candle has been handcrafted in Grasse and designed to transport you to a beautiful European city. Made with 11% essential oils, each candle will instantly revitalize your kitchen with a wonderful scent.
Geneva is the scent for chocolate lovers as it is the sweet combination of hazelnut and dark chocolate. It will leave your kitchen smelling like a Swiss chocolate factory. For those who enjoy a relaxing and rejuvenating scent, Budapest is crisp cucumber and fresh dill in accordance with the traditional Hungarian salad.
If you have ever visited the city of Palermo, then you can imagine the scent of lemon from the citrus groves. Our Palermo candle matches the lemon fragrance with the spicy notes of the ginger root. For an equally sweet and bitter candle, Valencia combines the sweet scent of orange blossoms with the freshly picked fennel aroma. Valencia pays tribute to the Spanish countryside where fields are blanketed in orange trees. Lastly, we have our Napoli scent to transform your kitchen into an Italian pizza kitchen filled with basil and tomatoes.
Seeing the process makes you have more appreciation for fragrances, and, in particular, the nose behind it. Nevertheless, creating perfumes and candles is an art, and the creators are nothing less than artists.