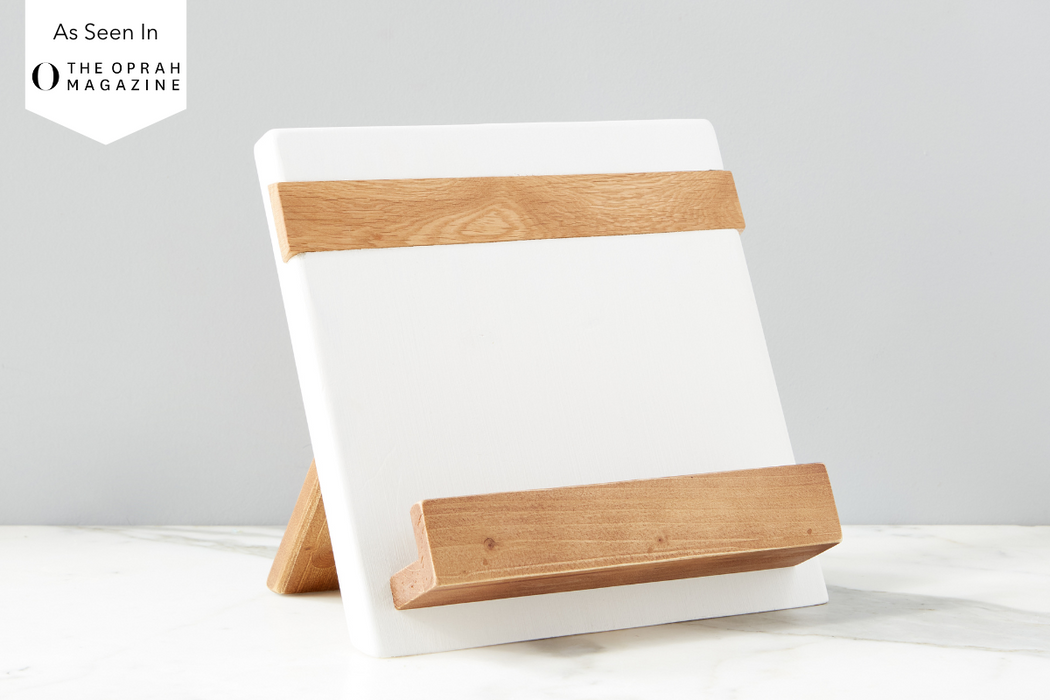 White Mod iPad / Cookbook Holder
A supreme example of beauty meets function, our chic and practical Mod iPad and Cookbook Holder is the new countertop staple. Made of reclaimed wood and finished with a 100% plant-based, food-safe wax, this essential accessory is sure to keep you focused.  The stand boasts a contrasting slat and a lipped shelf which keeps your page for easy visibility while you cook. This fundamental kitchen or office accessory ensures your favorite recipes and important emails stay within sight while offering style to the kitchen counter or desk. We also like this stand in a child's room to display favorite story books.
Handcrafted from sustainable wood by artisans in Europe
Finished with a plant-based, food-safe hard wax
Due to the nature of the wood, no cookbook holder will be perfectly identical and will contain differences in coloring and wood grain, embracing its organic beauty even further. 
The cookbook stand is adorned with a hardwood slat in the backrest to match the aesthetic of our charcuterie boards. The ledge is made from sustainably sourced pine as is the backrest and kickstand, and is finished with a plant-based, food-safe hard wax. As they are 2 different woods, there will be variances in the color tones as the woods have different properties and different finishes.
Care Instructions: 
To prevent and resolve surface stains, wipe the surface clean with hot soapy water and set out to air dry after initially drying with a clean, dry dish towel. Never submerge your item in water and avoid abrasive cleaning products. 
Weight: 3.3 lbs
Length: 11 inches
Width: 4 inches
Height: 11.5 inches