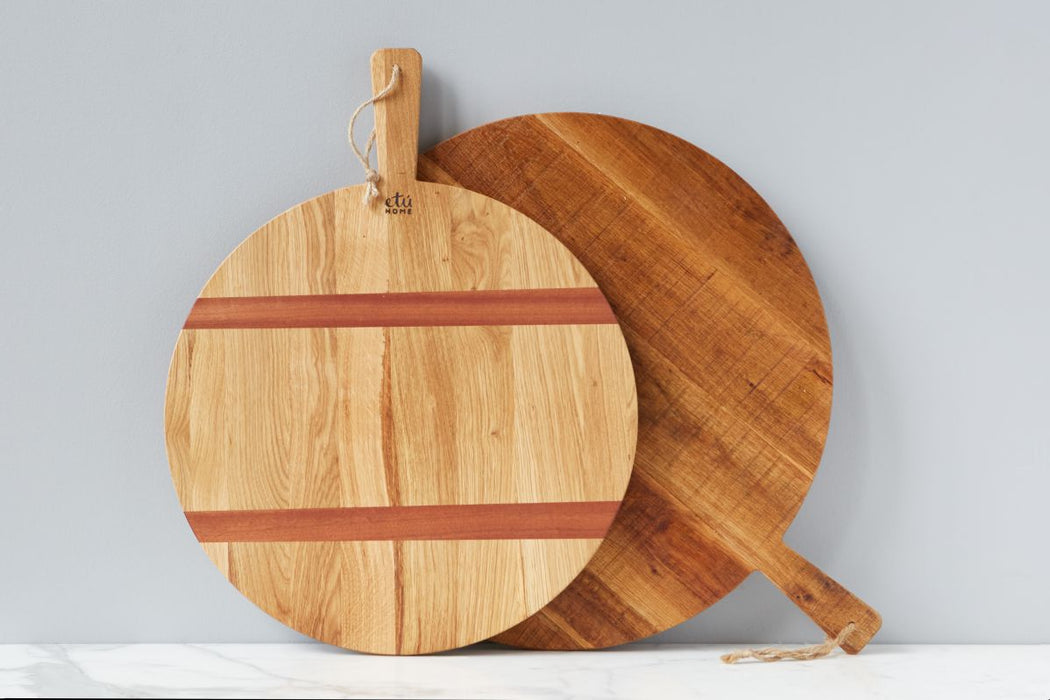 Round Oak Charcuterie Board, Medium
An even more functional and beautiful version of a signature pizza board, this charcuterie board is handcrafted from oak wood. The oak wooden pizza tray is darker than the signature etúHOME pizza board you know and love, and has a side featuring a rigid wood planked top while the other side is smooth. The smooth oak side makes this wood board ideal for cutting and chopping, as well as serving. The round board is made up of rich oak hardwood that is distinguished by two strips of walnut timber to prevent warping of the reclaimed wood. These large, top of the line boards are amazing quality and will last for generations to come.
This decorative piece is hand-crafted from oak wood. Due to the nature of the found beams, no two pieces will be perfectly identical and will contain varying crevices and splits within the wood, embracing its organic beauty even further.
Cutting Board Care Instructions: To prevent and resolve surface stains, wipe the surface clean with a hot soapy water immediately after using and then dry with a clean, dry dish towel. Never submerge your wood board in water and avoid abrasive cleaning products. For an all-natural stain removal remedy, dampen board with warm water and sprinkle coarse salt and/or baking soda over it. Cut a lemon in half and rub over the board while gently squeezing to release the juice. Let stand for 5 minutes and use a scrub brush to remove excess.
Caring for your board varies based on your use and location. Daily use and dry climates require more frequent nourishing. We recommend you nourish your board often, particularly after washing, by applying etuHOME's Rosemary and Sage Wood Oiling Wax.
Weight: 7.0 lbs
Length: with handle 25.5 inches
Width: 19.7 inches
Height: 0.8 inches