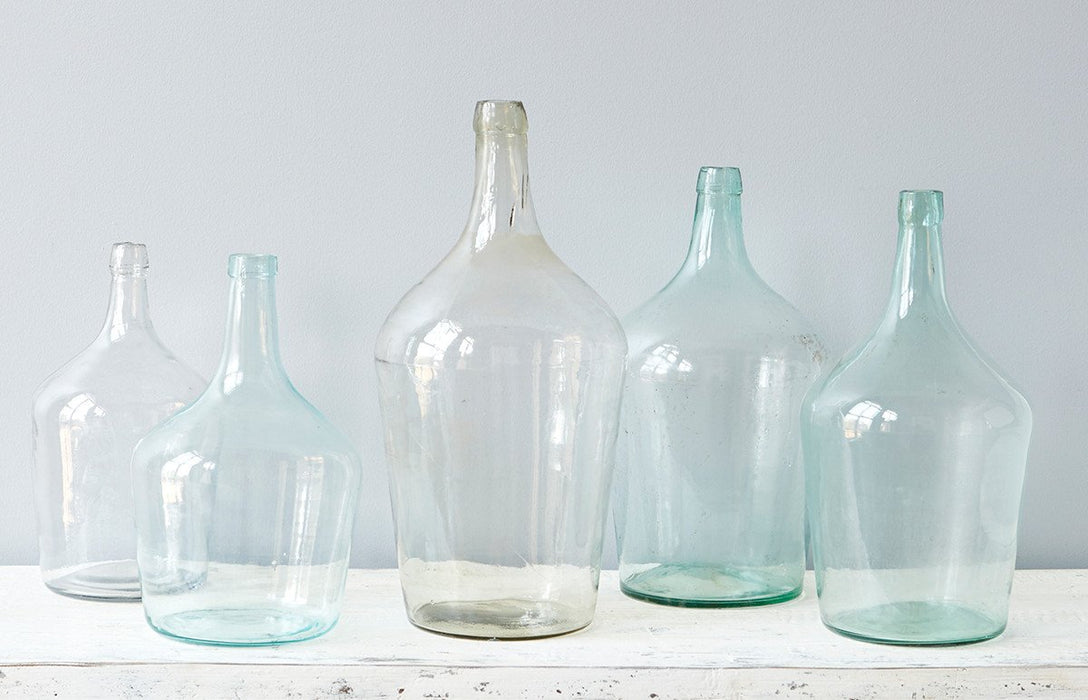 A brilliant discovery, these authentic Found Glass Demijohns are all unique in shape, size and clarity as they each have their own individuality. The word demijohn is French and is used to describe any large, narrow-necked bottle that is used to hold liquid, specifically wine and spirits. These demijohns were once surrounded in a wicker weave exterior, protecting the glass during transit. The glass bottles can be used decoratively and make for fabulous shelf styling, whether displayed alone, or in collections each piece is an elegant reminder of times past.  
Condition: Very Good, wear consistent with age and use
This is a vintage or antique item and is for decorative use only
Each bottle will vary from images shown in style, shape, size and color and bear unique characteristics and timeworn beauty of a vintage piece
Sold individually, a "let us choose for you" concept
Sourced in Europe, early - mid-century
Product Details and Dimensions 
Dimensions are approximate, bottles are all different and might be slightly out of the range. 
Medium
Overall: 8-9" Dia x 14-16" H
Large
Overall: 9.5-10.5" Dia x 17-19" H
Extra Large
Overall: 11-12" Dia x 20-22" H
 Care and Maintenance
For decorative use only
Wipe with soft, damp cloth
To clean, rinse with mild dish soap and warm water
To protect the original condition, do not apply household cleaners or abrasive cleaning agents
Medium
Length:9 inches
Width: 9 inches
Height: 15 inches
Weight: 2.4 lbs
Large
Length:10 1/2 inches
Width: 10 1/2 inches
Height: 19 inches
Weight: 4.8 lbs
Extra Large
Length:11 inches
Width: 11 inches
Height: 20 inches
Weight: 5.0 lbs