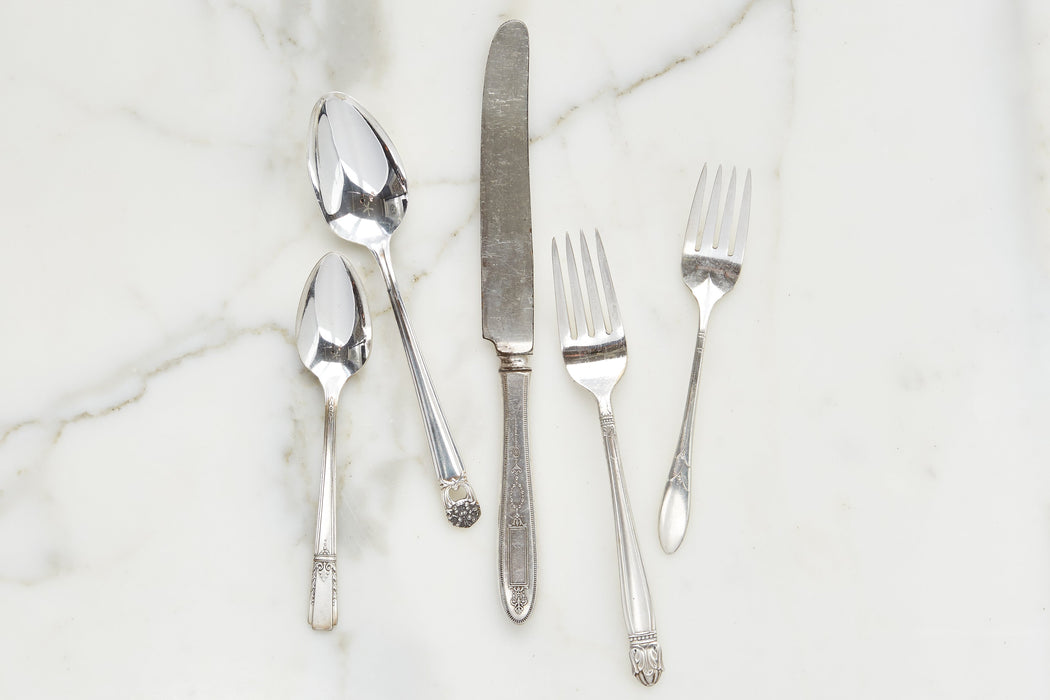 Found Silver Plate Flatware, Set of 5
Family gatherings are made even more special with our silver plate 5-piece setting. The beautifully proportioned and artfully balanced collection is a hallmark of its creators. Bring an authentic vintage touch to your well-dressed table. Each flatware set is mix and match for a unique and unpredictable look. Due to the found nature of this item, each piece of silverware will differ in size, coloring, pattern, and look. This is sold in a set of 5, including a dinner knife and fork, salad/dessert fork, tablespoon, and teaspoon.
Condition: Good, wear consistent with age and use
This is a vintage item and each set will vary from images shown in style, pattern, size and color
Sold in sets of 5, a "let us choose for you" concept
BPA, phthalate, lead and latex free
Early - mid-century
Product Details and Dimensions 
Material: Silver Plating on Bronze or Copper (knife blades are stainless steel) 
Dimensions are approximate, cutlery are all different and might be slightly out of the range. 
Overall: 7-8" L x 1-2" W x .5" H
 Care and Maintenance
Avoid highly acidic silver cleaners in order to preserve the integrity of the silver plate
Hand wash in hot soapy water
Rinse with cool tap water and immediately dry with a clean, soft cloth
On the occasions when you do need to polish your flatware, only use a good quality silver polish or cream
Rinse afterward in clean water and dry with a clean tea towel
*This product is excluded from all promotional discounts and offers. All found items are final purchases and cannot be returned.
Weight: 0.5 lb
Length: 7.5 inches
Width: 2 inches
Height: 0.5 inches