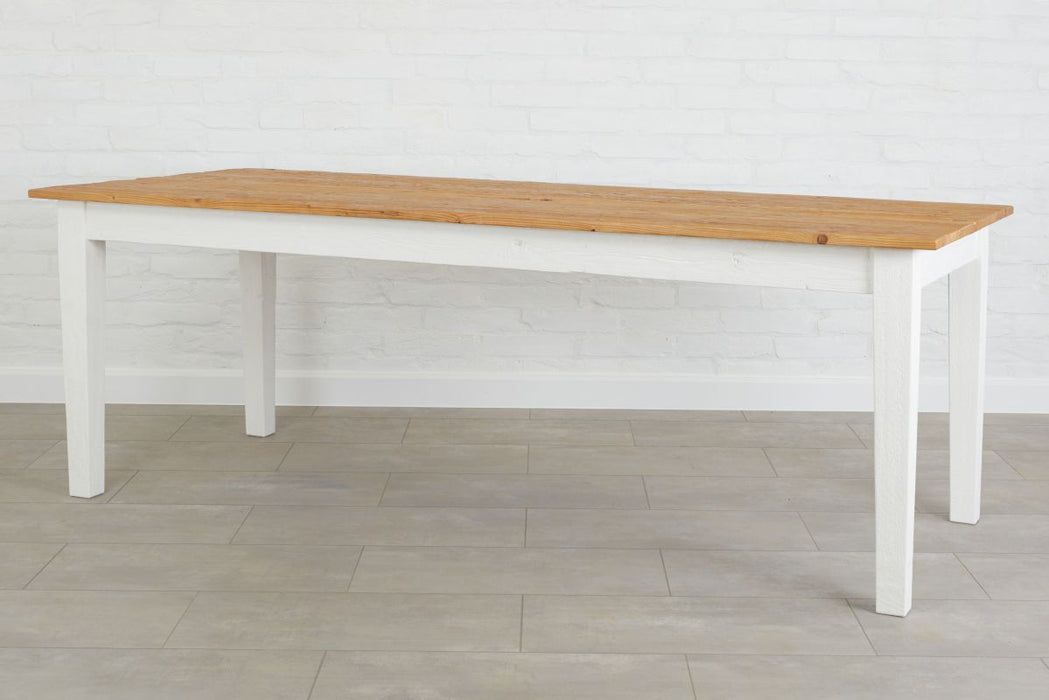 Provence Farm Table, Natural/White
Built for those who strive to admire the small joys in life and appreciate a simpler way of living, the Provence Collection embodies the laid-back lifestyle of the sunny countryside of Aix en Provence, France. The reclaimed wooden beams bring the outdoors in to your home for an 'en plein air' feel fit for any occasion. The collection merges the elegance of Old World Europe with the rustic country elements of farmhouse design. 
The brilliantly designed Natural and White Provence Farm Table is the perfect balance of antique beauty and updated construction. Built to last, as are the relationships made around it, the kitchen table is harvested from reclaimed wood and handcrafted in Europe. Take a step back from a fast-paced lifestyle and savor every meal around this table as well as every conversation that comes with it.
Handcrafted by European artisans, the Provence Farm Table is created using reclaimed wooden beams of sturdy European Pine. Due to their found nature, each plank that contributes to the table's design is unique in shape, size and color and will have individual characteristics and markings.
Each table is finished with a protective plant-based hard wax, composed of carnauba and beeswax, that is built to endure the everyday wear and tear of life.
Available in four sizes and in six finishes.
Flat pack design makes shipping and set up easy.
Custom options available for an order no less than 10 pieces.
Our furniture is handmade by craftsmen in Europe and usually ships 10-12 weeks after purchasing.
72"
Length:75 inches
Width: 36 inches
Height: 30 inches
84"
Length:84 inches
Width: 36 inches
Height: 30 inches
120"
Length:120 inches
Width: 36 inches
Height: 30 inches