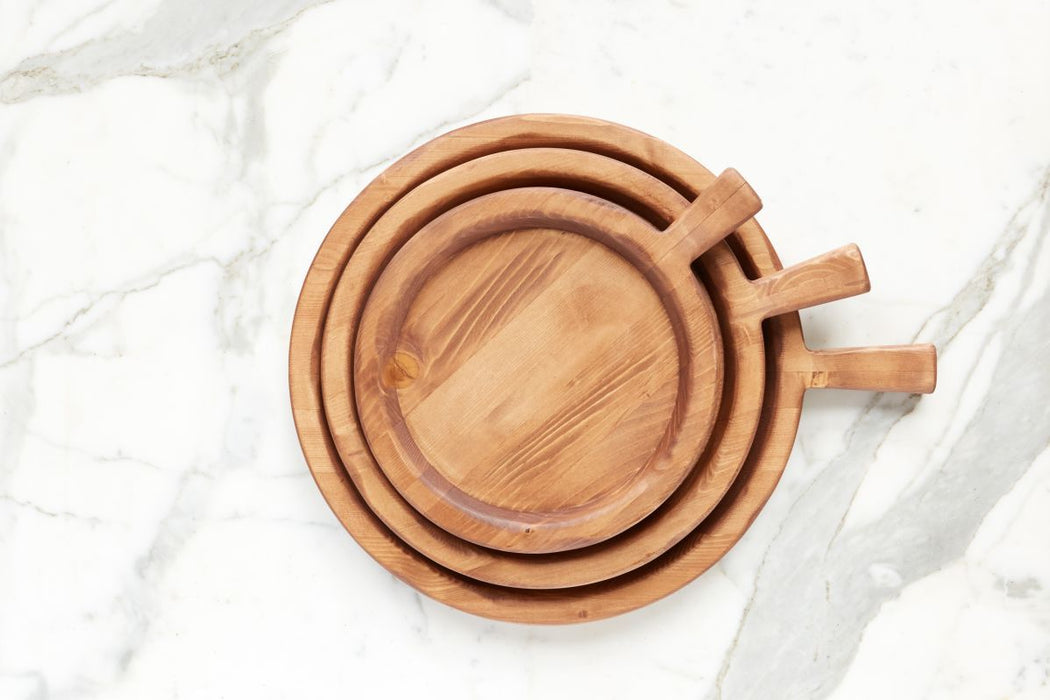 Across Mallorca, a Spanish island, almost every meal begins with a serving of bread and olives. The serving platter used to serve the relaxed-style tapas inspired the design of the Classic Serving Tray. The classic wood tray has been contemporized in a natural wood finish and features a handle for effortless mobility. The raised edge of the round tray allows it to hold various items, from drinks to appetizers.
etúHOME's serving boards are intended for serving only and should not be used for cutting or chopping. To protect and preserve the integrity and longevity of the piece, we recommend using a barrier such as parchment paper, a plate or a bowl for non-dry and hot ingredients. 
Serving Board Care Instructions: 
To prevent and resolve surface stains, wipe the surface clean with hot soapy water immediately after using and then dry with a clean, dry dish towel. Never submerge your wood board in water and avoid abrasive cleaning products.  Brightly colored foods such as berries, turmeric and mustard may stain white and lighter waxed boards.  To remove these tougher stains, reference our website for eco-friendly cleaning options.
Small
Length:17 inches
Width: 13 inches
Height: 1 1/2 inches
Weight: 2.0 lbs
Medium
Length:21 inches
Width: 16 1/2 inches
Height: 1 1/2 inches
Weight: 3.0 lbs
Large
Length:25 inches
Width: 20 inches
Height: 1 1/2 inches
Weight: 4.0 lbs