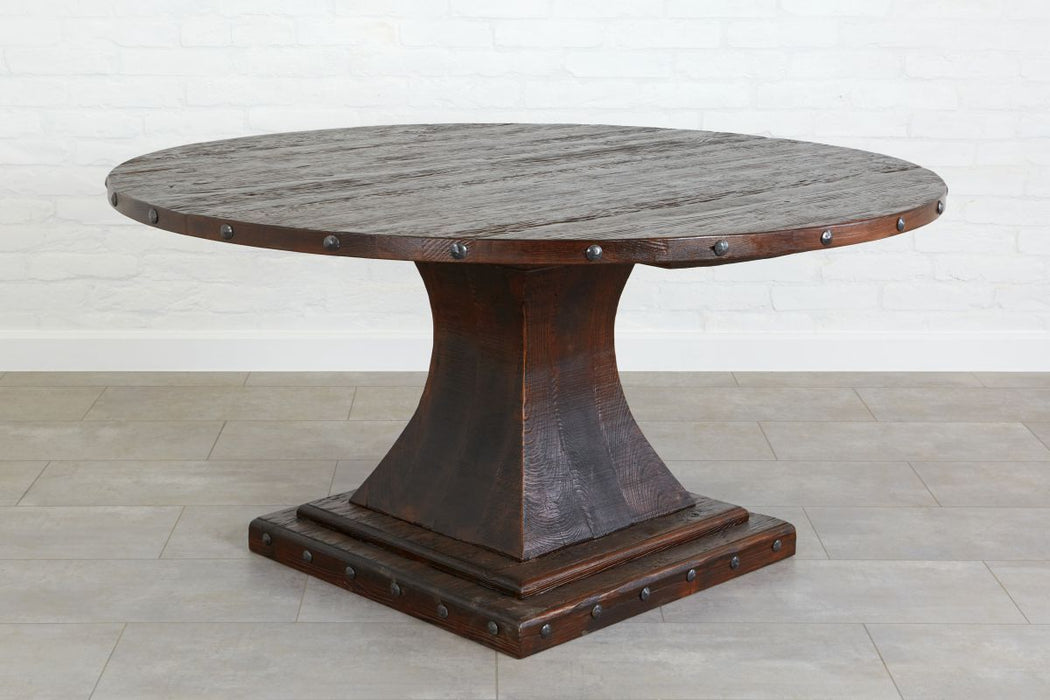 Camelot Pedestal Round Table, Saddle
In fabled Camelot, King Arthur and his noble knights gathered together, sitting at a round wooden table. It was in this storybook setting, where important conversations were shared and memories were made. The Camelot Collection takes this idea to contemporary measures through the design of the Camelot Pedestal Table. 

Serve your friends and family around our statement-making Camelot Round Table in Saddle. Handcrafted from reclaimed wood, and designed to reflect a classic style, this round table will last for generations to come. This pedestal table is accented with distressed nail head accents around the edge of the tabletop and around the pedestal base to emphasize its contemporary look and adapt to a variety of spaces.
Handcrafted by European artisans, the Camelot Pedestal Round Table is created using reclaimed wooden beams of sturdy European Pine. 
Each table is finished with a protective plant-based hard wax, composed of carnauba and beeswax, that is built to endure the everyday wear and tear of life.
48" table seats up to 4-6. 
60" table seats up to 6-8.
72" table seats up to 8-10.
Our furniture is handmade by craftsmen in Europe and usually ships 10-12 weeks after purchasing.
48" / Gunmetal
Length:48 inches
Width: 48 inches
Height: 29 1/2 inches
48" / Gold
Length:48 inches
Width: 48 inches
Height: 29 1/2 inches
60" / Gunmetal
Length:60 inches
Width: 60 inches
Height: 29 1/2 inches
60" / Gold
Length:60 inches
Width: 60 inches
Height: 29 1/2 inches
72" / Gunmetal
Length:72 inches
Width: 72 inches
Height: 29 1/2 inches
72" / Gold
Length:72 inches
Width: 72 inches
Height: 29 1/2 inches