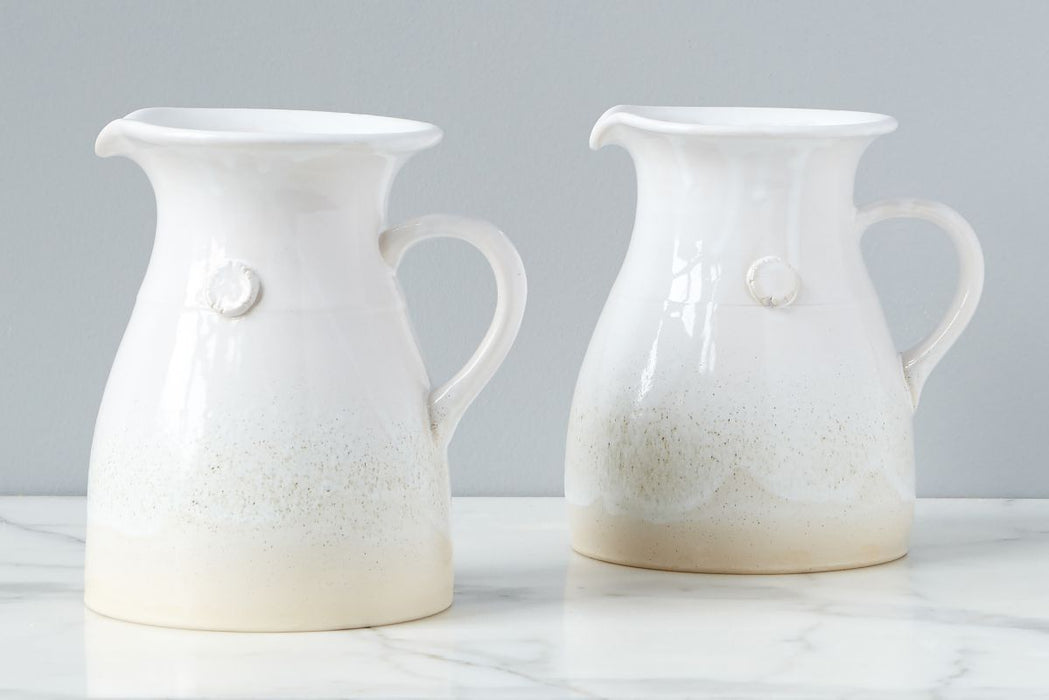 Handcrafted from white European clay, the Handthrown Pottery Collection is created by European artisans on an original potter's wheel. The pieces are inspired from classic European kitchens, mixing traditional designs with contemporary style. While each item is different and will vary due to the handcrafted technique used to create them, each piece boasts a unique lush glaze to enhance authenticity. The raw clay is left untouched on the bottom, while the top portion is dipped in a warm, white lead-free, non-toxic glaze for the perfect mix of traditional design and contemporary style.
Each piece may vary from images shown in coloring, size and glaze drips.
Created one-by-one on the potter's wheel from white European Clay.
From beginning to end, each piece requires approximately 35 hours of work.
The pottery is fired twice in a precision-controlled electric oven.
Crazing will typically occur during the first fire and does not affect the quality or durability of the item.
Glaze drips are a desired effect to enhance the individuality of each piece.
Made in Europe
These stoneware pitchers have endless possibilities and can be used for all your serving and decorative needs thanks to its timeless form. We love filling them with fresh-squeezed orange juice during brunch or tossing in a handful of just-picked colorful stems to display on our counter.
Product Details and Dimensions
One Size
Overall: 5.75" dia, 8" h
Capacity:  qt
Weight: 2.5 lbs 
Care and Maintenance
Weight: 2.6 lbs
Length: 5.75 inches
Width: 5.75 inches
Height: 8 inches