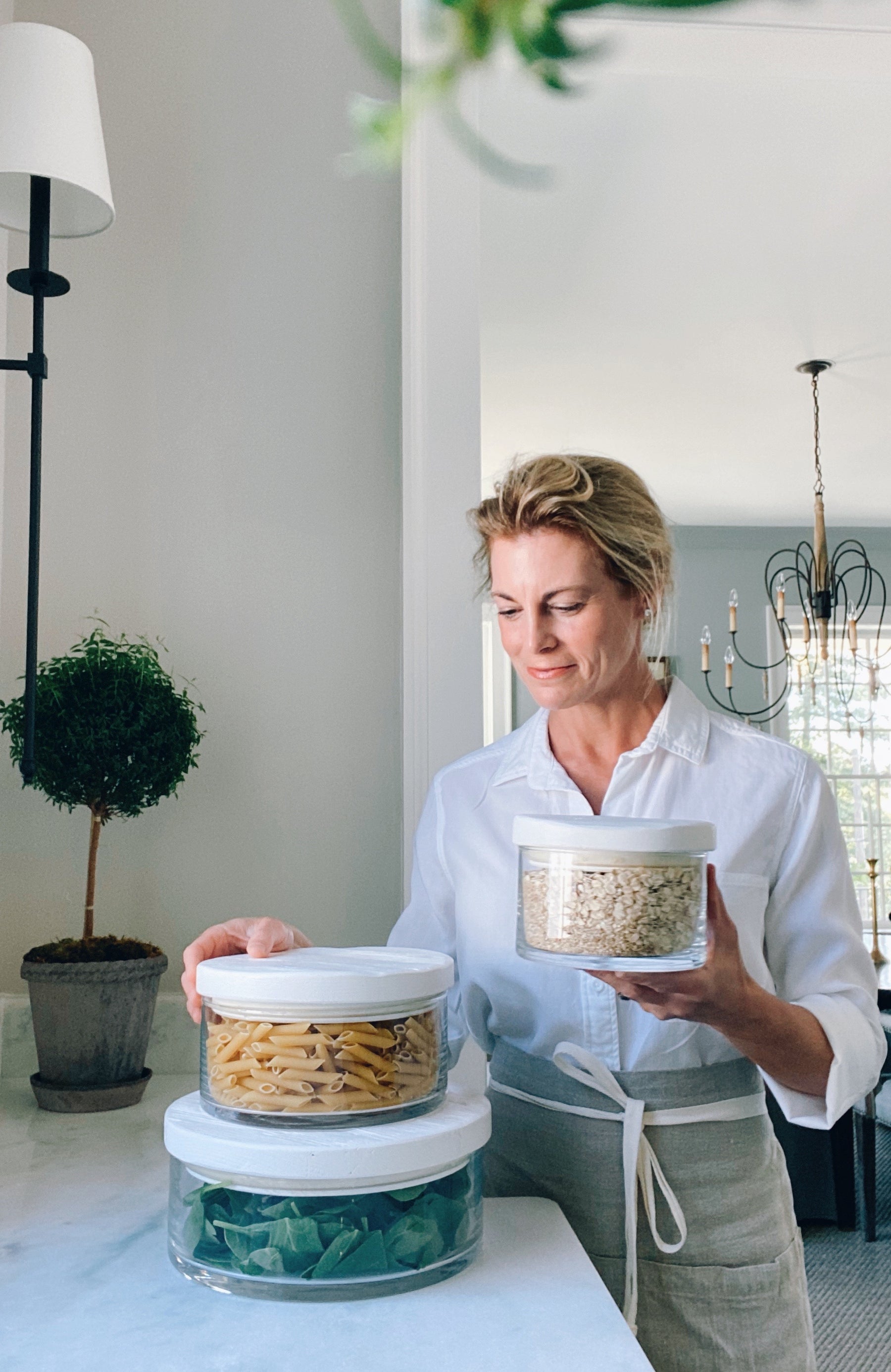 At home with etúHOME: 3 Meals in 3 Canisters with Marcy Braselton
As temporary shelters continue to be implemented state-by-state, we're all cooking at home more and making a homemade meal is more important than ever. From breakfast to dinner, feeding multiple mouths can be intimidating to many, especially with less access to perishable foods. As we adapt from convenient restaurant runs to cooking every meal from scratch, we want to help inspire your inner chef. 
We went straight to the expert, Marcy Braselton, from Community Kitchen Atlanta. Marcy's goal "is to make healthy eating accessible, attainable and, most of all, ENJOYABLE for busy people and families." We've partnered with Marcy to bring our readers 3 easy and delicious recipes, 1 for breakfast, 1 for lunch, and 1 for dinner.
Each recipe was specially curated to utilize everyday staples. The recipes can seamlessly be prepped, cooked, served, and stored in our wood top canisters, meaning fewer dishes to clean.
"The Bianca Wood Top Canisters are the perfect combination of durability, functionality + timeless design. They are gorgeous pieces that go from my refrigerator to my oven to my tabletop flawlessly. I use them daily for meal prep + food storage. Whether it's assembling overnight oats for breakfast the next morning or throwing together a simple + delicious pasta bake for a family dinner, these canisters are a dream come true for any home cook!"
To kick-start the day on the right foot, Marcy created an Overnight Oats recipe topped with seasonal berries stored perfectly in our small Bianca Wood Top Canister. Easy to pull out of the fridge for lunch, she prepared a fresh layered salad tossed with a zesty vinaigrette in our Medium Bianca Wood Top Canister. To end the day with a warm, homemade meal, she created a Zesty Baked Pasta from oven to table in our Large Bianca Wood Top Canister.
Find each of Marcy's specially curated dishes below to easy and convenient meal prep-
etúHOME Overnight Oats
2 C old fashioned oats, uncooked
2 T chia seeds
2 T shredded coconut 
2 T sliced almonds
1/2 T ground cinnamon
1/2 T cacao powder
1 T honey
4 C whole milk
fresh fruit, to garnish
In a small wood top canister, add the oats, chia seeds, shredded coconut, sliced almonds, ground cinnamon, and cacao powder. Mix to combine. Add the honey and milk. Mix to combine. Make sure your liquid is covering all of the ingredients in the canister. 
Cover and refrigerate overnight or at least 6 hours. When ready to serve, add more liquid if it's too dry. Garnish with fresh fruit.
Serves 4
Other additions or substitutions:
flax seeds
agave or brown sugar or maple syrup
nut milk or oat milk or soy milk or evaporated milk (diluted) 
etúHOME Layered Salad + Zesty Vinaigrette
 1 (12 oz) can white albacore tuna in water, drained
1 (15 oz) can garbanzo beans, drained
1 1/2 C carrots, thinly sliced
1 C baby cucumber, sliced
1 C grape tomatoes halved
1 C pickled beets, chopped
1 C Belgian endive, sliced
8 C mixed greens (I used radish microgreens, baby arugula, baby spinach)
1/4 C fresh mint, torn
3/4 C olive oil
1/4 C apple cider vinegar
1 lemon, juiced
1 T honey
dash of sea salt
cracked pepper 
1/2 C shaved Parmesan, to garnish
 In a medium wood top canister, layer the tuna, garbanzo beans, carrots, baby cucumbers, tomatoes, and pickled beets, starting with tuna and beans on the bottom.
In a small glass jar, with a tight-fitting lid, add the olive oil, apple cider vinegar, lemon juice, and honey. Add a dash of sea salt and cracked pepper. Secure the lid tightly and shake until the vinaigrette is well mixed and emulsified. 
Pour the vinaigrette over the layered tuna, beans and vegetables. Top with the endive, half of the mixed greens and fresh mint. Cover and refrigerate for several hours.
When ready to serve, add the remaining mixed greens to a large bowl. Take the top off the layered salad and turn it over into the large bowl. Toss well to combine. Garnish with shaved Parmesan and enjoy!
Serves 4
etúHOME Zesty Baked Pasta
1 lb lean ground beef (or ground meat of your choice)
2 T finely grated Parmesan
1 T balsamic reduction (or balsamic vinegar)
1 t dried or fresh basil
1 t dried or fresh oregano
1 egg
1 lb pasta (I used penne)
2 T olive oil, plus extra to drizzle
1 small onion, thinly sliced
4 garlic cloves, crushed + minced
1 lb grape tomatoes, halved
1 zucchini, shredded
1/4 C balsamic vinegar
sea salt
cracked pepper
1 C grated Parmesan, to serve
Preheat oven to 425 degrees.
Prepare the pasta al dente, according to package instructions, reserving 1/2 C cooking water.
While the pasta is cooking, make the meatballs. In a medium bowl, add the ground beef, 2 T finely grated Parmesan, balsamic reduction, basil, oregano, and egg. Season with sea salt and pepper. Mix until well incorporated. Shape the meat mixture into tablespoon-sized meatballs and set aside.
In a large wood top glass canister, add the tomatoes, zucchini and al dente pasta.
In the saucepan, you used to make the pasta, heat 2 T olive oil over medium heat. Add the onions and garlic. Sauté for 2 minutes. Transfer the onions and garlic to the glass canister. Toss well to combine.
Place the meatballs in the saucepan, adding more olive oil if needed. Brown the meatballs over medium heat for 1 minute. Gentle turn the meatballs and sauté for one more minute. Nestle the browned meatballs on top of the pasta mixture in the canister.
Add the reserved pasta water and 1/4 C balsamic vinegar to the pasta and meatballs. Drizzle generously with olive oil. Season with sea salt and pepper.
Bake, uncovered, for 20 minutes. Spoon into pasta bowls and sprinkle with grated Parmesan. Serve immediately.
Serves 4
You're one step away from not only impressing your loved ones with a satisfied tummy, but becoming the cook you've long-desired to be! We promise you won't be disappointed, try one of Marcy's tasty meals below and let us know your thoughts! Don't forget to share with us on Instagram by tagging @etu.home and @communitykitchenatl and hashtagging #myetuhome.