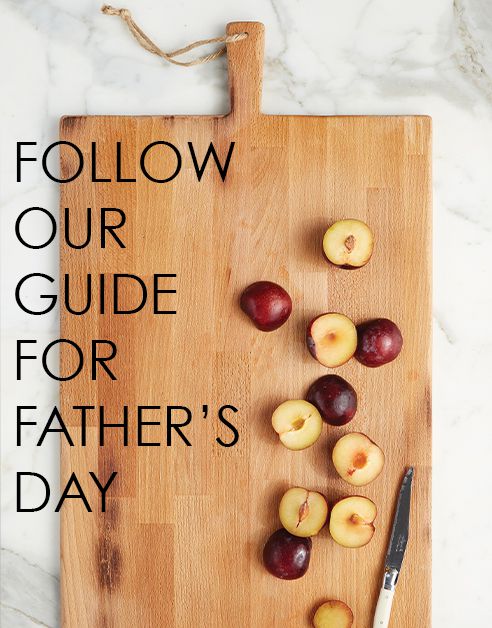 Dine With Dad This Father's Day
You may have caught on by now that at etúHOME it's all about the family. Not only are we a family business, but we also admire the simplistic traditions of time's past that involve gathering around a table and enjoying a delicious meal with the ones you love. With the arrival of Father's Day, our team would like to challenge all of you to bring this principle back to your own families. This Father's Day, we would like to start a new tradition, Dine with Dad. 
As time has passed and we have been forced to grow up, spending time with your parents may be short coming and strained. It seems like the only time we truly gather together in the kitchen is during the stressful holidays when a turkey needs a basting. When was the last time you cooked a meal with one of your parents? Better yet, cooked a meal with your father? We realized it has been quite some time for us! Cooking is a great way to enjoy time with your loved ones – whether it's testing a new recipe or relishing in one of Grandma's classics. We know the logistics could get tricky so we have the play by play for you on how you can give Dad the perfect gift this year – quality time in the kitchen with you. 
Invite Dad over! Phone, E-mail, In person, Carrier pigeon – However you can best reach Dad, let him know you want to spend time with him this Father's Day! Pick a day that works best for the both of you and let him know your new titles – Chef and Sous Chef. 
Figure out a recipe you both will love. Dad prefers to man the grill? You would rather be in charge of baking a sweet treat? Four courses or one damn good app? Make arrangements and let him know you've got the groceries covered. 
Get to cookin'. Once Dad arrives, the fun will start. Pop open a fave wine or beer that Dad enjoys and get started! Need some countertop companions to assist with chopping up meat or veggies? Our Large Farmhouse Cutting Board or Medium Beech Rectangle Pizza Board are two heavy duty options and just what you need to get the job done. The Pizza Board can even double as a serving board for your charcuterie spread to easily snack on while you're in the midst of culinary chaos. 
Cheers! You guys did it. Celebrate your meal by gathering around your table and savoring all of your hard work with a fork and knife. Ask Dad about his childhood, when he learned how to cook, what his biggest success in life was – we promise you won't be sorry you asked. We recommend using our Bordeaux Lazy Susan so no time is wasted asking Dad to pass the green beans during the middle of his story. 
Au revoir. We know the biggest gift of all was spending time with Dad but don't let him leave empty handed! Send him home with a full belly, lots of laughs, plenty of leftovers and a Large Porto-Vecchio candle to sweeten the day. 
Are you up for the Dine with Dad challenge?
Grab some of these items and more with our promotion code – JUSTFOR DAD to get 15% off our top picks for Father's Day Gifts.