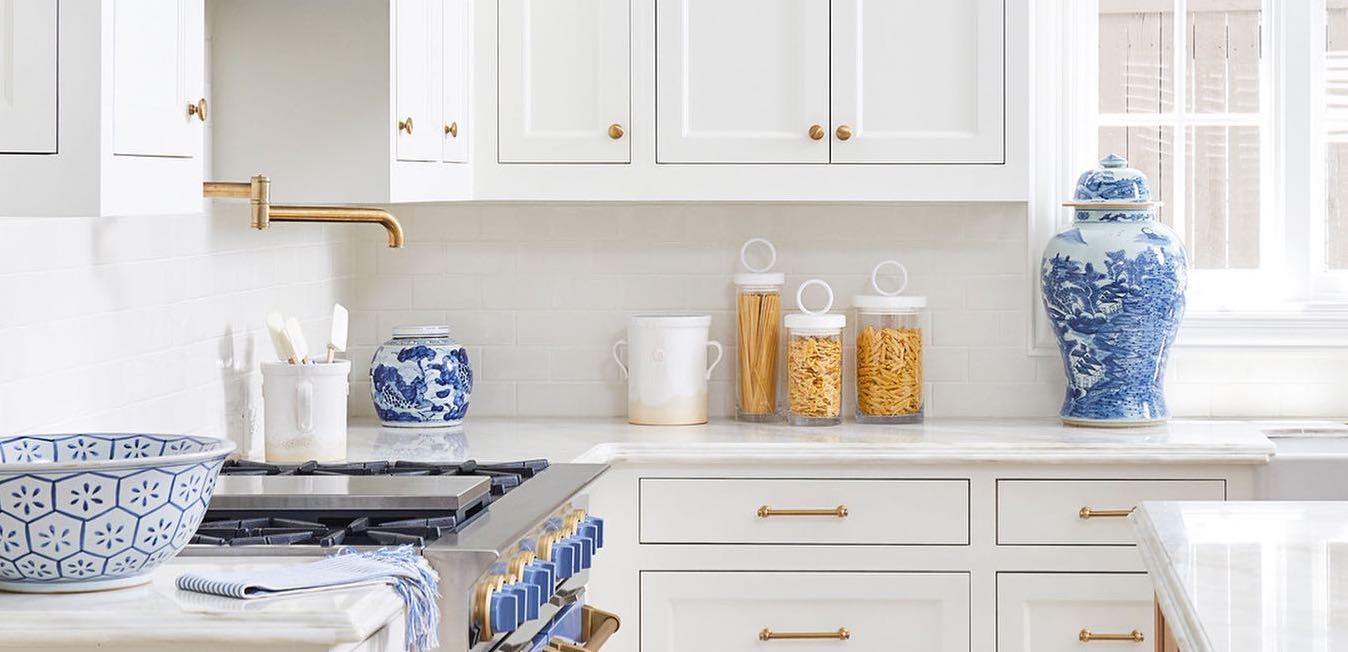 14 Looks We Love By 3 Designers We Admire
In honor of Valentine's Day this year we are sharing our love for 14 interiors styled by 3 of our favorite designers. Admired for their distinguished styles, Colette Shelton, Caitlin Wilson and Bria Hammel bring us endless inspiration that can be applied to every home, no matter the aesthetic.
A Los Angeles native, Colette Shelton is an entrepreneur, blogger and product designer. The COCOCOZY x etúHOME collaboration celebrates bold patterns inspired by Colette's Caribbean heritage and takes dual purpose kitchen accents to another level. 
Look 1
Curated corners are completed with the COCOCOZY Demijohns layered for added dimension. Perfect as a set or styled alone, Colette proves that these decorative bottles can live on shelves, coffee tables, or even on the floor.
Look 2
Bring the outdoors in with a beautiful and lush terrarium styled under the COCOCOZY Wauwinet Cloche. The recycled glass allows her greenery to remain visible while the plant is protected from the elements.
Look 3
Functional art is served in Colette's kitchen with the COCOCOZY Square Link Serving Board. A simple yet purposeful display, she adds depth and contrast into her space through artful serveware. 
Look 4
Filled from floor to ceiling, this epic wall covered in unique wall art is hands down a favorited look of Colettes. Hang patterned boards as functional art for a timeless yet chic accent wall.
An internationally acclaimed interior and product designer, Caitlin Wilson started her design firm in 2007. Starting with just pillows and fabric, Caitlin Wilson Design now specializes in rugs, wallpaper, furniture and more. Her signature colors and our sustainable practices create the Caitlin Wilson x etúHOME collection.
Look 5
Caitlin utilizes stylish canisters and pottery on her kitchen counter to add contrast and height. Display countertop worthy storage for effortless everyday kitchen prep.
Look 6
Organic shapes marry bold colors to create this dreamy dresser-scape. Caitlin uses accents in her signature French Blue and brings florals into the space with the French Mason Jar.
Look 7
A breakfast display this beautiful is awarded hostess with the mostest. Serve fresh fruits in a Handthrown Mixing Bowl, perfectly browned croissants on a trending charcuterie board, and plates in a round Rush basket. 
Look 8
Caitlin makes a room statement with bold, blue furniture! The white dinnerware and linens add contrast to the look while blending together perfectly with the florals and fabric. 
Look 9
The perfect marriage between two contrasting pastel colors. Caitlin seamlessly combines her favorite hues, French Blue and Laurel Green, into one beautiful table setting.
Bria Hammel is an esteemed interior designer with an incredible eye for detail and a passion for designing spaces that tell her clients' stories. Bria's work has been featured in national publications and is the founder of the Brooke & Lou home décor boutique.
Look 10
Clean, elegant and elevated. Bria transformed this laundry room with a few simple touches. Instantly refresh a space with florals displayed in a French Mason Jar worthy to live in every room of the house.
Look 11
A fresh and bright kitchen is achieved with monochrome colors and plenty of natural light. Bria's use of greenery in a Colorblock Mason Jar brings a breath of fresh air to the kitchen workspace.
Look 12
Bria creates an inviting display through coordinating colors. The neutral tones of the blanket, bowl, vase, Bianca Trivet, and furniture blend together to create a cozy dining space.
Look 13
Incorporate color into the space with subtle blue accents to make the room brighter. Clean, white furnishings blend with colorful vases and greenery to add contrast and visual interest.
Look 14
Her go-to accent chair, Bria uses the Tyrolean Chair as a one-and-done accent. Styled with bright, white towels, this chair adds contrast to the bathroom and remains functional as a catch-all.
For Valentine's Day we only shared 14 looks, but we encourage you to follow Colette Shelton, Caitlin Wilson and Bria Hammel to be inspired for your next home project. Whether looking to refresh the kitchen or update the laundry room, you're sure to find endless inspiration.