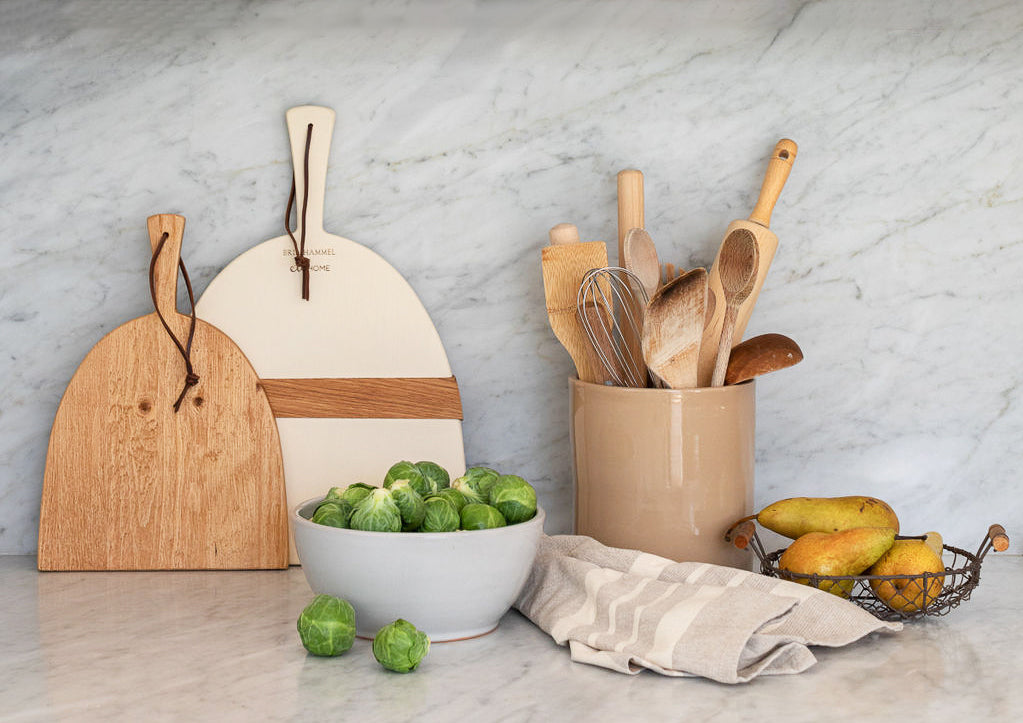 Behind the Design: Bria Hammel x etúHOME Collection
The Bria Hammel x etúHOME Collection features kitchen staples that are both timeless styles and classic designs. Esteemed Interior Designer, Bria Hammel, marries her signature design aesthetic with our artisanal craftsmanship and sustainable practices. The line features a mix of dual-function wood, glass, and ceramic home accessories that are hand-crafted to have a special place in every home.
Bria Hammel is the Creative Director and CEO of Bria Hammel Interiors, the CEO of Brooke & Lou and Co-Creator of Hammel House & Co. She leads a fresh, talented team of women who are dedicated to designing beautiful, inviting homes for clients. She has an incredible eye for detail and a passion for designing spaces that tell her clients' stories.
After two years in the making and perfecting, the collection inspired by the French al-fresco kitchen is celebrated. "We wanted to take those light, organic details we love about the Spring/Summer season but give them that classic, French aesthetic we're endlessly inspired by," says Hammel. The minimalist and neutral designs in this collection can be styled in any home, no matter the aesthetic.
The Arch Serving Boards introduce a brand-new shape to our assortment of serving boards – a semi-oval arch designed to fit perfectly under standard kitchen cabinets. "We were able to share what we felt was missing in the current market, what we were longing for as designers when it came to styling pieces, and a viewpoint as to how other designers and homeowners could utilize these pieces in their home," says Hammel. The dual-purpose boards add an art deco touch to the kitchen when displayed against backsplash or hung on walls as art. They also raise the bar in entertaining when hosting guests for a lovely brunch or for the cocktail and crudité hour. 
Over the years, the quintessential etúHOME
French Mason Jars
are found throughout various projects of Bria Hammel as one of her go-to styling accents. Inspired by this best seller, the Bria Hammel French Mason Jars share the same shape but are finished in a high-gloss
Cream
and
Grey
finish. The neutral hues of these vessels along with the ceramics in the collection allow for seamless styling in any home.
Bring any space to life by the touch of a designer with the Bria Hammel x etúHOME Collection. The versatile ceramic, glass and wood accents styled together create a timeless assortment of products that elevate your everyday. Be one of the first to shop the entire collection today.