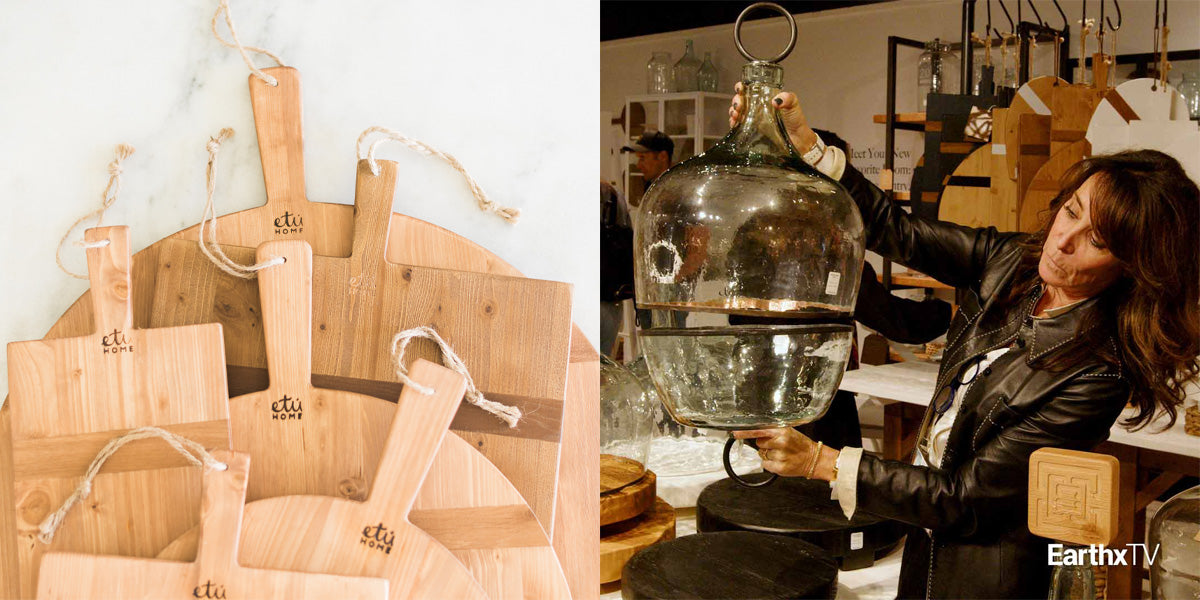 EarthxTV Features etúHOME on Retail Sustainability
Consumer demand is shifting towards sustainable products and retailers are adapting to meet this shift. Interior Designer and sustainability expert, Laurence Carr, highlights businesses that focus on sustainable and circular design. In a recent episode of Chez Laurence on EarthxTV, Founder and President Stacy Borocz shares the eco-conscious mission of etúHOME.
When visiting family in the countryside, Stacy was surrounded by warmth and conversation that inspired her to create a collection of home accents that bring friends and family together. As buildings inevitably age and are demolished throughout Europe, she decided to give the 19th century wooden beams a new life in the form of sustainable serveware. Nearly 20 years later, the etúHOME collection of European-inspired products now feature reclaimed serving boards, recycled glass accents, handthrown pottery and genuine antique accents sourced throughout Europe.
Sustainability is the heart of etúHOME: embracing authenticity and aiming to educate consumers on artisanal craftmanship, reclaimed materials and the beauty of imperfections for a better tomorrow. Watch the full feature on EarthxTV to learn more about etúHOME's sustainable mission.