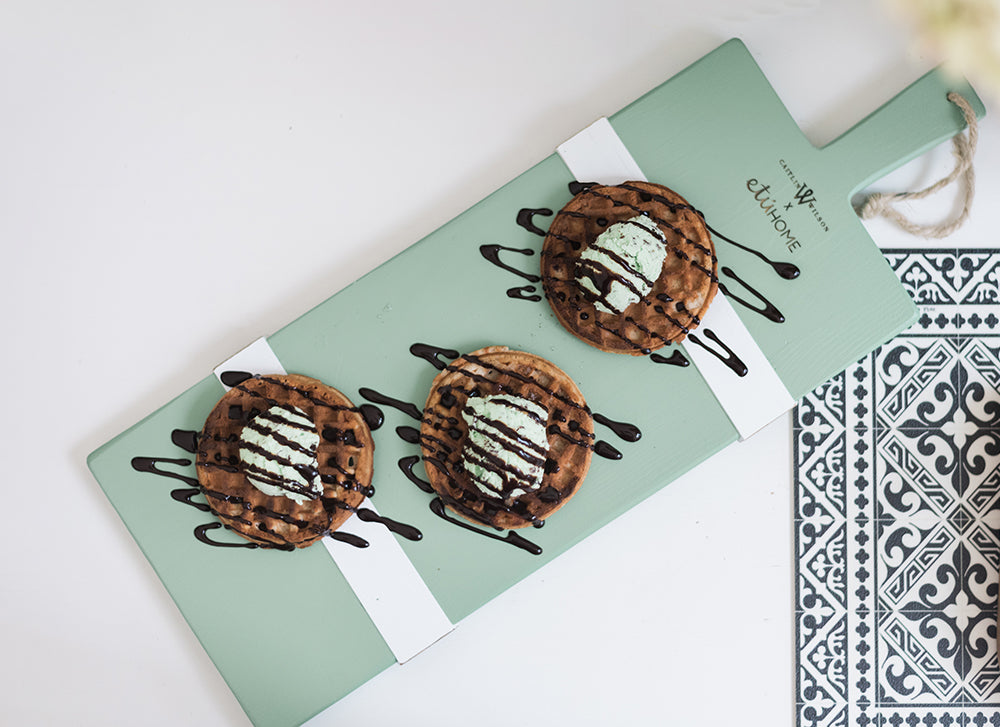 How-To Gift Wrap Charcuterie Boards This Holiday Season
Holiday gifting can bring much joy, especially when you find the perfect gift for that special person who seems to have everything. Whether looking for the hostess or a thoughtful holiday gift, we can guarantee they don't have this trending and one-of-kind charcuterie board. New to our mod charcuterie board collection, the Caitlin Wilson boards are finished in a boasting Laurel Green 100% plant-based, food-safe hard wax with contrasting white slats. Don't show up empty-handed this holiday season by pairing with cheese knives or stacking high with holiday sweets for an elegant gift.
Not sure how to wrap a charcuterie board? Forget the wrapping paper, interior designer and influencer, Caitlin Wilson, has done the homework for you. Watch as Caitlin Wilson easily wraps the latest addition to the etúHOME x Caitlin Wilson collection, the small Laurel Green Rectangle Mod Charcuterie Board.
What You'll Need:
Here are 4 Easy Steps:
1. Simply place the charcuterie board in the cellophane bag with the opening towards the handle of the board.
2. Use twine or ribbon to tie your linens and/or cheese knives to the book. If including a candle, place at the bottom of the bag on top of your assortment.
3. Once all gifts are inside, gather the opening of the bag at the handle of the board and fasten with a ribbon. Use two colors of ribbon for extra color.
4. Tie a handwritten holiday tag to the ribbon for personalization.
Charcuterie is having a moment and for those in a pinch this holiday season, an elegant charcuterie board is sure to impress. Browse our luxury candle collection to gift scents that instantly transport you to European cities. If needing inspiration for what board to bring to your next dinner party, shop the new Caitlin Wilson Laurel Green Charcuterie Boards here for a chic hostess gift in a trending color.